SPECIAL REPORT: Borderland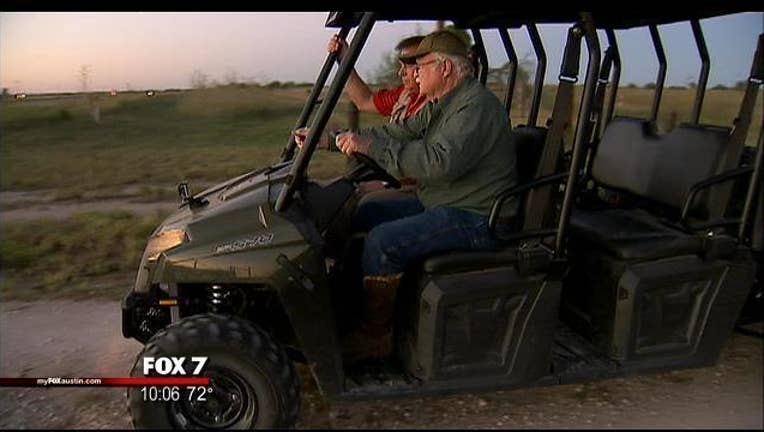 article
FALFURRIAS, Texas - Under siege. That's how some south Texas landowners describe life on the border and why they are allowing citizen and militia patrols on their ranches. FOX 7's Rudy Koski went on patrol with the co-founder of a group called the Texas Border Volunteers.
In a special borderland report, Rudy shows us how their missions are being affected by the recent security surge by DPS.
Dr. Mike Vickers typically spends his days at his Falfurrias clinic. But caring for animals is not his only passion, he is also determined to protect his land.
"This is our home and we are not going to let it run us off."
Vickers has boxes of pictures of illegal aliens caught on his brooks county ranch - some next to his home - and some caught at his front door. Many simply are desperate people looking for a better life- but there are others - gang members - looking to make trouble. It's why Vickers never leaves home without packing protection -
"This gun here has got 30 rounds in it, and I've got another 30 round mag right here. And I've got another here."
To fight back, about a decade ago Vickers organized a security patrol called Texas Border Volunteers.
"A bunch of us decided we had to do something."
There are currently about 300 members. In October, Rudy went on a patrol near the Brooks County town of Falfurrias. The group only goes on land they own or are asked to patrol. An introduction video for new members makes it clear; this is no vacation or camping trip.
At least once a month, 30 to 40 volunteers put on hunting gear and search for undocumented aliens. At night thermal imaging cameras provide clear views of the illegal crossings. The volunteers claim to have encountered people from 70 different nations.
"We had a bail out the last day of our op, just right here on the highway, and in the backseat was a cache of Iranian money, $10,000 worth," said Vickers.
Each border Volunteer is armed, but so far no one has used deadly force. The job, according to Vickers, is to observe and report activity to border patrol.
"We don't even let them know we are present."
But sometimes close calls and confrontations cannot be avoided. The was the case at a site called "The Welcome Center." The location got its name after a face to face encounter, similar to this one. A member walked into a group and greeted them by saying, welcome to Texas.
Many illegal immigrants who cut through Brooks County ranch land head out on foot. They do it in order to slip around a Border Patrol Checkpoint located on Hwy 281. It's south of the town of Falfurrias, which is about 70 miles from the Texas border. As agents check vehicles, the Texas border volunteers take up positions in the brush.
"One night we reported 110 trying to get picked up by a semi-truck on us 281, just north of checkpoint, we called the border patrol and without air support they were able to get 86 of them caught that night," said Vickers.
The stakes are high and the smugglers, known as coyotes, can be unforgiving.
"We've saved people that have described how that coyote has beaten them with a stick, threatened to kill them, we're just going to leave here, and you're going to die here. The animals are going to eat ya before you die," said Vickers.
Vickers has graphic images are of those who didn't make it. Since 2011, more than 300 remains have been found in Brooks County.
"It's really disturbing, and we find a lot of them that are on the verge of death, we've actually saved a lot of lives, people that probably had 30 minutes to an hour to live."
There have been fewer contacts and bodies found since the DPS Border Surge started in June.
But the volunteers are not quitting because of what's expected if the state operation ends.
"It's going to go back like it was, and we are going to have the body counts going back up in Brooks County," said Vickers.
The help from Vickers' group is appreciated by the Brooks Co Sheriff's Office because they only have 6 road deputies. During the day there may only be one deputy on patrol, covering more than 900 sq. miles.
"It's always good when you have resources," said Chief Deputy Benny Martinez.
Brooks County Chief Deputy Benny Martinez told FOX 7 the border volunteers have not caused any problems since they started the patrols.
"If there is nothing negative coming out of that part of the area, than we're good."
It's a partnership based on need. For Mike Vickers, the country doctor and border protector, it's the right prescription for a problem that continues to threat his home.