The Yard in South Austin to host clothing swap experience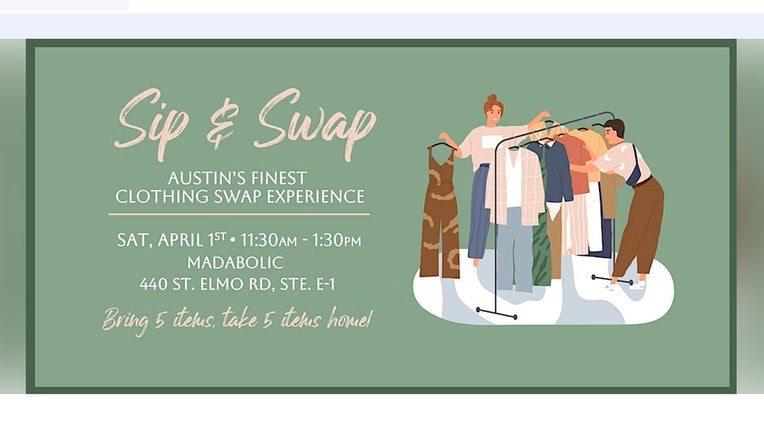 article
AUSTIN, Texas - An event in South Austin is giving people a chance to clean out their closets and refresh their wardrobes.
Sip & Swap is being held on April 1 from 11:30 a.m. to 1:30 p.m. at MADabolic Austin SOUTH, at 440 East St. Elmo Road Suite E-1 in The Yard.
For every item you bring, you will receive one ticket to swap for another item at the event. Each person can buy up to five tickets.
Items at the swap will be available for sale at $3 each, if you don't have anything to donate, or if you want to buy more items.
RELATED STORY: FOX 7 Texas Forward: MADabolic Austin
Beverages will be provided by St. Elmo Brewery, Still Whiskey Co., Spokesman Coffee, The Austin Winery, and Blue Norther Hard Seltzer, which are also all located in The Yard.
The event is for people 21 and over and drinks are complimentary, but tickets are required to participate in the swap.
More information can be found here.
What type of clothing to bring to swap
Organizers ask that all items brought to the event be clean and in good condition. 
People should not bring anything that is stained, torn, or unwearable. A good rule of thumb is only to bring items you would feel comfortable giving to a friend. 
At check-in, organizers will quickly look through the items you brought to make sure they meet our quality standards.
Accepted items include adult clothing in all sizes, shoes, coats, and handbags.
Items that will NOT be accepted include torn clothing and clothing in bad condition, children's clothing, undergarments, socks, jewelry, accessories, house goods, toys, bedding, pillows, and anything else non-clothing related.
Any items left over at the end of the event will be donated.