Swappa Local gives Austinites new way to sell old tech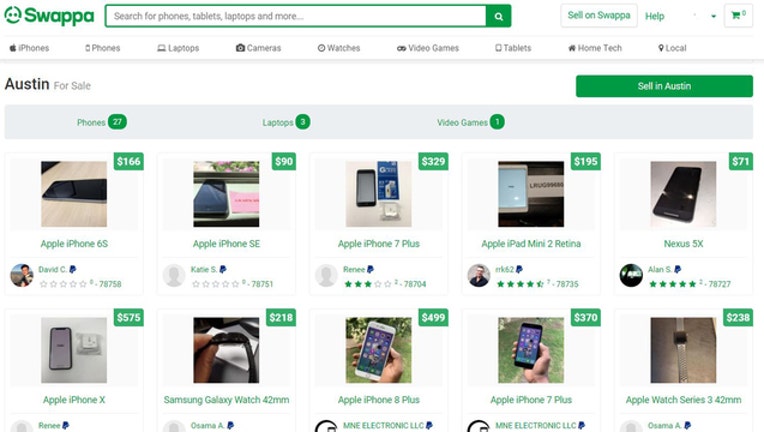 article
AUSTIN, Texas (FOX 7 Austin) - A new service is giving Austinites a new way to sell their old tech.
Swappa Local launched in June with the goal of transforming the experience of buying and selling consumer electronics. 
The service, available currently in Austin; Dallas-Fort Worth; Kansas City, Mo.; Atlanta; Minneapolis-St. Paul; Orange County, Calif.; Las Vegas; St. Louis; and Raleigh-Durham, N.C., has a thorough review process for screening devices before they're made available to buyers.
"Being sold a blacklisted phone wasn't worth the high speed chase that almost happened, but it was the motivation to create a better, safer marketplace," founder and CEO Ben Edwards said. "Our focus on safety is personal to me, having been ripped off using competitor sites."
All listings on Swappa are reviewed and must be approved before they can be viewed or sold on the site. For example, Swappa requires sellers to provide serial or IMEI numbers for all phones to be sold on the site to ensure the phone was not lost or stolen.
Sellers are also required to submit a verification photo of the device along with a hand-written unique code. Stock photos are not accepted to ensure the seller actually has the product they're trying to sell.
"We like to say Swappa is a human-powered site because a real person reviews each listing," Edwards said. "The goal is to weed out any potentially problematic devices and/or sellers before ever encountered by potential buyers."
Swappa requires all items listed to be fully functional and "newish" as part of their "no junk" policy. The device can have normal wear and tear, but should be ready for use by the buyer.
"Newish means gently used and fully functional, referring to the condition of the device, not the age of the product," Edwards said. "An old iPhone 4 can be sold on Swappa as it still has value to someone as a music player, or dash cam, or first phone for a child, etc."
Once the device is approved and a buyer selects it to purchase, Swappa provides a list of approved recommended "swap spots" for the seller to choose from to meet with the buyer. These spots are public places, including police departments and law enforcement-dedicated areas with full-time surveillance, coffee shops, and cellphone repair stores partnered with Swappa. 
The site does not have an option for sellers to choose a location not already on Swappa's recommended list and Swappa recommends buyer and seller not choose an alternate location.
The buyer pays an upfront deposit for the item and the seller and buyer are connected on a private sale page to complete the sale. The rest of the payment is made in person, usually in cash, after the buyer has a chance to verify and test the device. 
"If the buyer does not accept the device, they should not pay the seller and notify Swappa that they wish to not complete the sale," Edwards said. "The sale fee will be refunded and Swappa staff will investigate the situation to see if any further action needs to be taken against the seller regarding their ability to continue using the site."
Edwards says several factors went into choosing the markets, including where transactions were already happening, where Swappa team members were living, and where they thought the service would be well-received.
"People want and need discounted tech and our goal has always been to connect buyers with gently used, fully functional devices," Edwards said. "Swappa wants our users to trust the tech they buy."
To learn more about Swappa and Swappa Local, visit their website.