SXSW command center pulling double duty this rainy weekend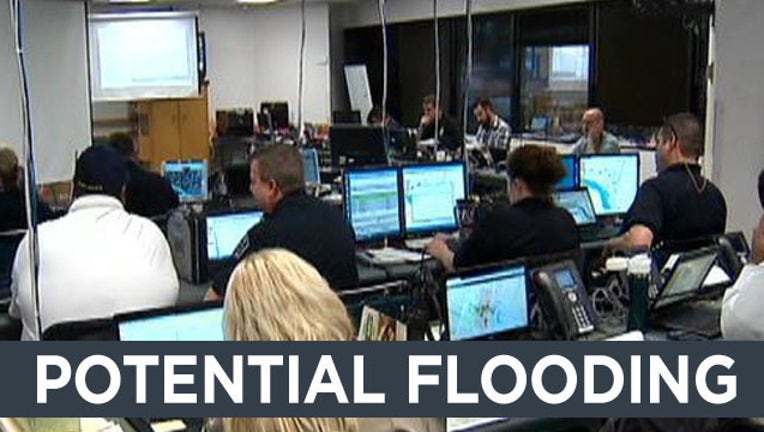 article
AUSTIN, Texas - Thousands of tourists and torrential rains could be a recipe for disaster in Austin.
City officials are bracing for the worst.
The heart of Austin's command for SXSW is doing double duty Friday. Not only are they coordinating city teams like fire, police, and EMS; they're also monitoring the weather making sure crews are prepared and ready to go if they need to.
FOX 7's Elizabeth Saab visited the place responsible for making sure SXSW runs smoothly.
"Fire, EMS, transportation, we have all of those different agencies, public information officers - all of the code enforcement officers all of the agencies that work with SXSW," said Otis Latin, the Director of Homeland Security and Emergency Management for the city of Austin.
On Friday Latin's team was in high gear, multi-tasking in anticipation for the worst.
" We have been monitoring the weather all week because it's important for SXSW activities also but with the possibility of heavy rains we are more in the mode to make sure we are prepared in case we have to do activations," he explained.
That includes having enough people to cover whatever comes up, making sure all of the Austin-Travis County area is prepared.
"What we normally do is make sure we put on additional staffing for these types of activities and also know that we maintain the proper staffing to take care of any type of activities that goes forth."
If it starts to flood, Latin says the SXSW team will stay firmly put while he and his crew will mobilize and head back to their headquarters at the Austin-Travis County Emergency Operation Center.
"We are prepared and we make sure that we try to stay vigilant about anything that's going on in our city. We want to make sure that they remember turn and don't drown if in fact anything takes place tonight from a rain perspective," he said.