Taylor Swift puts Kansas City on the map with Travis Kelce relationship
Taylor Swift and Travis Kelce have put Kansas City back on the map post-COVID as their budding relationship has drawn eyes from all over the country to the all-American city.
Swift and Kelce made headlines when the global pop star appeared in the Kansas City Chiefs tight end's family suite at the Sept. 24 game against the Chicago Bears, shocking the nation with their new romance. Swift has since attended a handful of games in support of her new beau, including a celebrity-filled outing to the game against the New York Jets at MetLife Stadium in East Rutherford, New Jersey, on Oct. 1. At each game, Swift has been photographed in Kansas City Chiefs gear.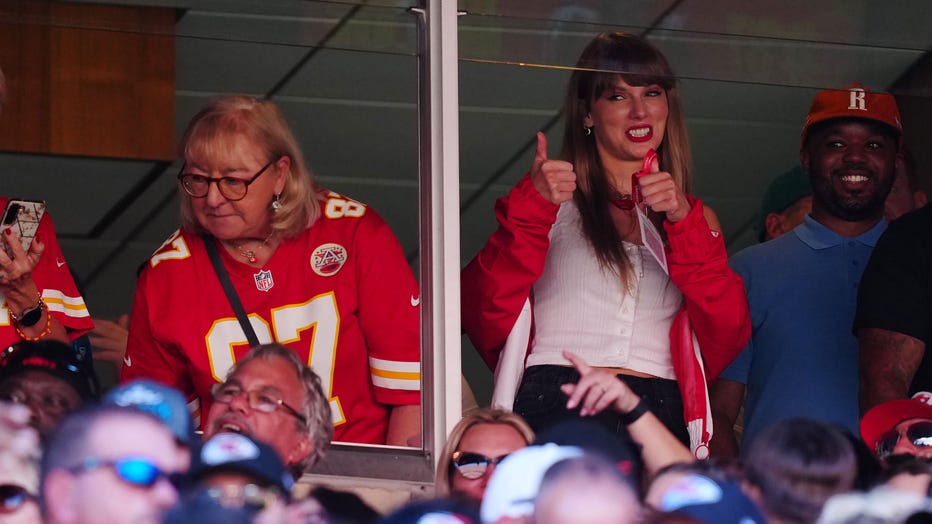 Donna Kelceand Taylor Swift are seen during the first half of a game between the Chicago Bears and the Kansas City Chiefs at GEHA Field at Arrowhead Stadium on September 24, 2023 in Kansas City, Missouri. (Photo by Jason Hanna/Getty Images)
Since then, fans have flocked to Kansas City-area businesses looking for Swift- and Kelce-themed attire to wear to the games as ticket prices have seemingly soared.
TAYLOR SWIFT ACHIEVES BILLIONAIRE STATUS AMID NEW ROMANCE, RECORD-BREAKING TOUR AND '1989 (TAYLOR'S VERSION)'
"We've had a lot of Taylor Swift fans who are now new Chiefs fans coming in, and we have Chiefs fans who are now suddenly Taylor Swift fans coming in to buy any and all the shirts that they can get their hands on," Xavier Ross, the manager of RAYGUN, told Business Insider.
Shirts with Kelce or Swift's name on them are consistently in the top five items sold each week, according to Ross, including one that reads "Go Taylor Swift's Boyfriend!"
"Her being around and being involved in the Chiefs community has really kind of brought Kansas City into the public light on a national scale in a way that it hasn't been in a long time," Westside Storey store manager Megan Folmsbee said.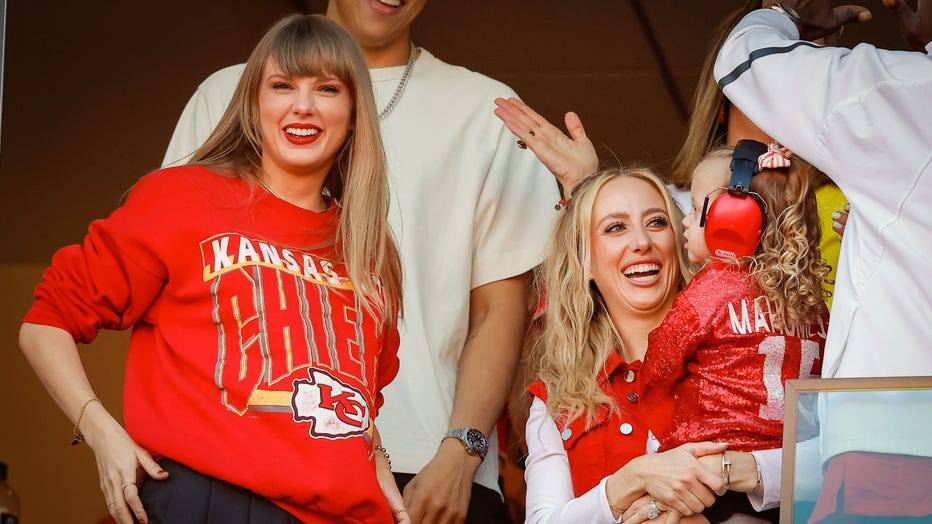 Taylor Swift and Brittany Mahomes react during a game between the Los Angeles Chargers and Kansas City Chiefs at GEHA Field at Arrowhead Stadium on October 22, 2023 in Kansas City, Missouri. (Photo by David Eulitt/Getty Images)
Kansas City had already seen a dramatic boost to its economy before Swift and Kelce took their relationship public with the singer-songwriter's Eras Tour stops. Swift's two shows in July at Arrowhead Stadium brought the city $47.8 million in economic impact, according to Visit KC.
A local Kansas City bakery, Dolce Bakery, began selling Swift-themed cakes leading up to the "Midnights" singer's tour stops and told Business Insider the items have continued to sell long after. Erin Brown, owner of the shop, claimed they had sold somewhere between 2,000 and 3,000 cakes.
"That's brought in new customers, which is always fun and always a goal to serve more of our community in that way," Brown said. "I mean, boosted sales are a dream for a small business."
Businesses in Kansas City aren't the only ones benefiting from Swift's appearances. The NFL has seen a spike in viewership since the pop star began attending Chiefs games.
Many have dubbed it "The Taylor Swift Effect," and Kelce's mom surmised the league is probably "thrilled."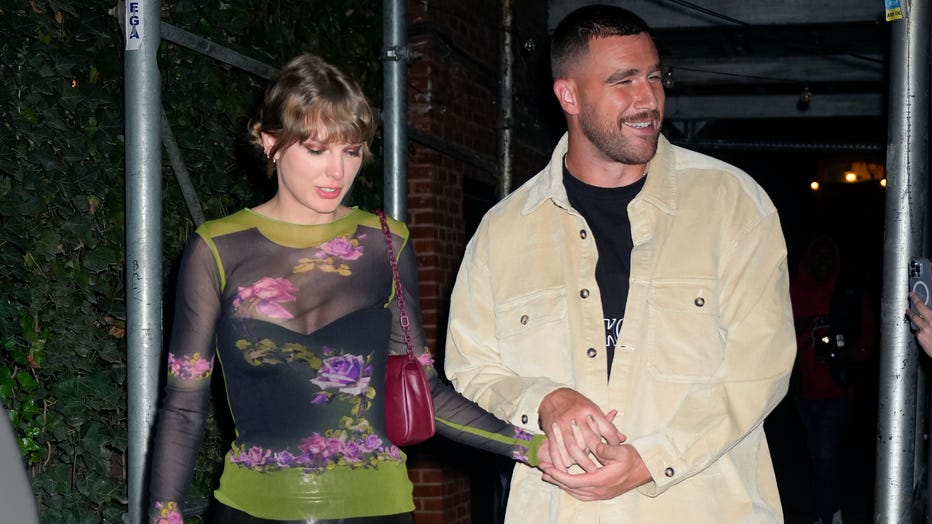 Taylor Swift and Travis Kelce have dinner at Waverly Inn on October 15, 2023 in New York City. (Photo by Gotham/GC Images)
"I would imagine that they would be thrilled with any new viewership," she told Fox News Digital while highlighting her partnership with Barefoot Wines, the official wine sponsor of the NFL. "I mean, how could you not be? Football is essentially easy to get involved with and enjoy, and it's exciting. The other thing, too, is that it's just one of those things that you can dabble in to. You don't have to be an expert in it. 
"So I think it's a fun thing for the NFL to get new viewership, and I'm sure they're extremely happy about it and I can't see they'd have any issue with that at all."