Texas Freedom Network delivers anti-school voucher petition to lawmakers
AUSTIN, Texas - On Wednesday, representatives from the Texas Freedom Network alongside other advocates took their concerns over school voucher legislation straight to lawmakers' doorsteps.
They dropped off copies of a petition, each with more than 2,700 signatures, opposing Senate Bill 1, which passed the Senate last week.
The bill would create education savings accounts for eligible students to use on private school tuition and other education fees.
MORE STORIES:
"It threatens to create educational deserts in rural communities and deepens the chasms of inequality in access to quality education," said Rocío Fierro-Pérez, senior political coordinator for TFN.
Those who spoke from the Capitol steps on Wednesday believe underfunded public schools will lose even more funding.
"Texas students do not need an expensive lifesaver for just a few," said Chloe Sikes, deputy director of policy for the Intercultural Development Research Association. "We need a rising tide that lifts all boats, and today's petition asks legislators to seriously invest in public schools without public funding being held hostage."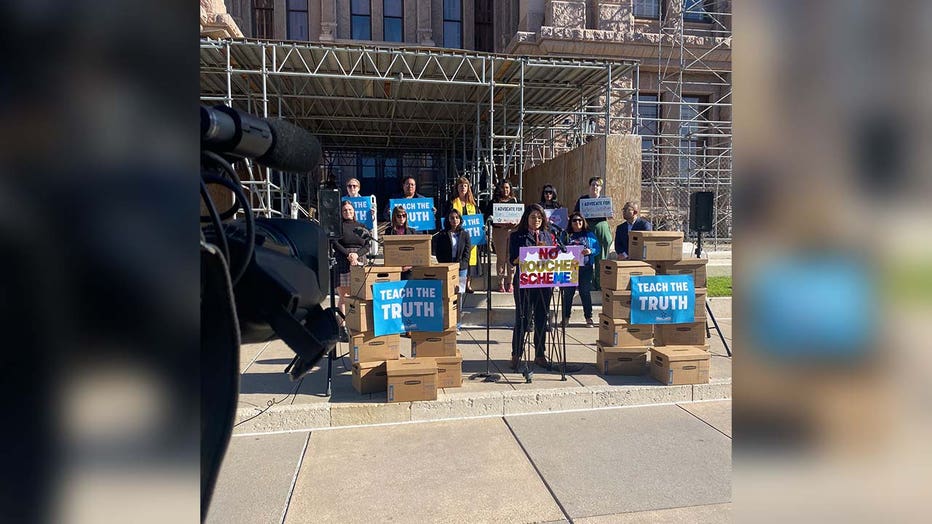 Advocates of the proposed legislation believe there can be both properly funded public schools and more options for parents.
"As a public school parent, I'm excited about that. I want to make sure the money goes into our classrooms, to our excellent teachers," said Mandy Drogin, campaign director of Next Generation Texas with the Texas Public Policy Foundation. "But we can also, at the same time, acknowledge that the one-size-fits-all system where you are sent to a school based on the street you live on does not work for every child." 
Those in opposition also claim the proposed program provides a false promise to those who are truly in need.
"It's something that is going to help people that can already afford private schools. It's not going to help our students that truly need the whole different school paid for," said Ovidia Molina, president of the Texas State Teachers Association. "Their families are still going to have to figure out where the money comes from, and they're going to realize that they can't afford private school, and then they're going to come back to our public schools that are more underfunded."
Drogin pushed back on that claim.
"That narrative is completely counter to the facts," she said. "The number one prioritization, the children that have the first access to all of this, are our low-income and special needs students."