Texas Game Wardens and neighbors rescue families hit by Tropical Depression Imelda in Conroe
CONROE, Texas - Texas Game Wardens were called to a small neighborhood in Conroe submerged underwater. Homeowners watched and waited for their loved ones to be rescued.
"Every person that we have talked to has said that this worse than Harvey that this came out of nowhere that no one really saw it coming," said Texas Game Warden Rachel Kellner.
Texas Game Wardens swift water rescue teams performed more than 300 water related rescues Thursday. Kellner's team rescued families in New Waverly before making their way to Conroe. Their valiant efforts were captured throughout the day.
Game Warden Patrick True was pictured wading through chest deep water carrying a 5-year-old girl.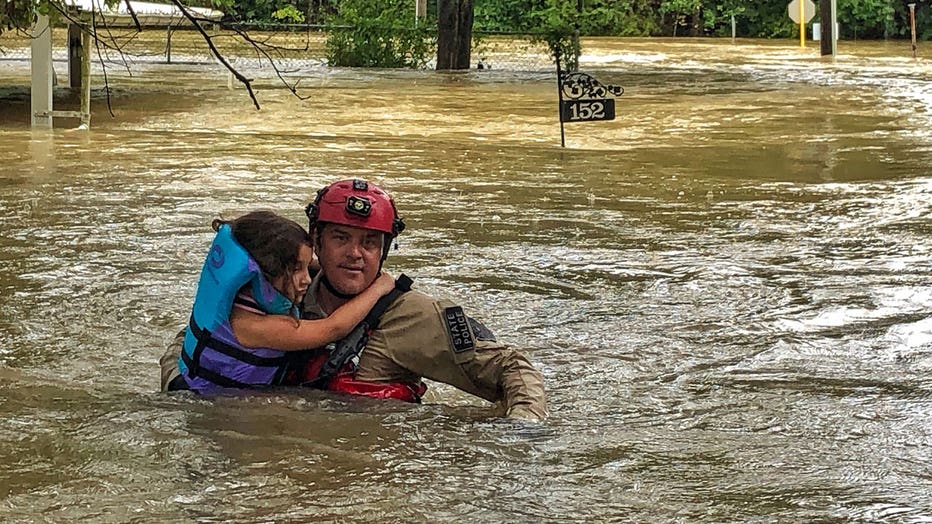 "About half way through the situation we were almost to the boat she calmed down and realized she was going to be okay just kept telling her positive and positive reinforcement it's going to be Ok and she jumped on that boat like a champion," True said with a smile. "Helping kids get back with their families and things of that nature that's why I work as a Texas game warden."
True was pleased with the work he and his partner did. The two only had an hour left on their shift and were ready to head to the next location, ready to help save more lives.
Neighbors in Conroe hopped on boats of their own to help families gather their prized possessions. For the Vega family it was their show pigs. The hogs were placed in a trailer safe and dry for the night.
One motor boat returned with Richard Peace sped in down the street with Richard Pease. Pease flexed his arms proudly carrying his oxygen tank. His wife Carolyn Pease helped him off the boat and welcomed him with a big hug and kiss. 
Pease left her home earlier in the day to go to the store and wasn't able to return to her home since. Richard said the water rushed into their home rose up to his waist and he managed to stay above water with neighbors until help arrived. 
"We just thank God that we are still alive and all that is material. I got him and he's got me and that's good," Pease said.