Texas head-on crash involving human smuggler evading authorities kills 8, including 2 Americans
ZAVALA COUNTY, Texas - Eight people, including two Americans, were killed Wednesday when a human smuggler transporting illegal immigrants in a vehicle crashed into an SUV in Texas while evading authorities, officials said. 
The crash occurred on U.S. Route 57 in Batesville, as the suspected human smuggler was fleeing Zavala County deputies, the Texas Department of Public Safety (DPS) said.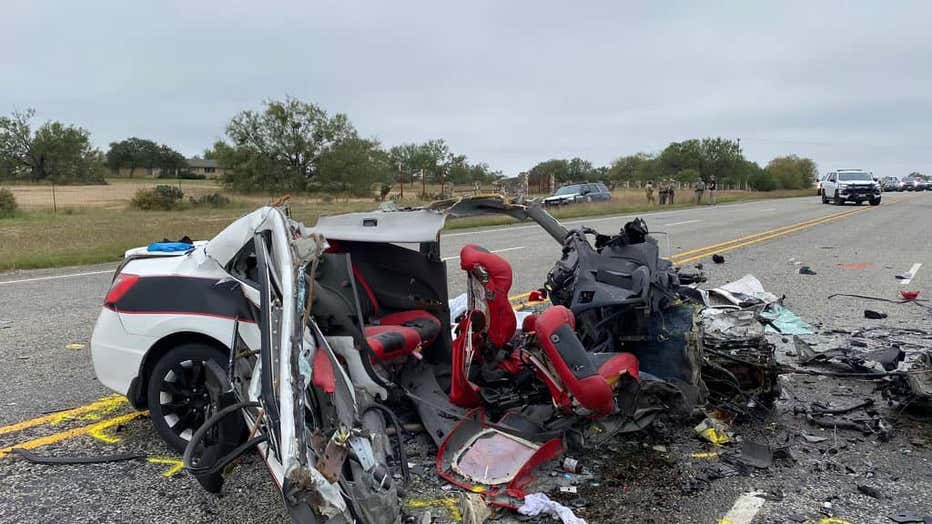 Photo of the crash (Source: Constable Emmanuel Zamora)
The driver passed an 18-wheeler in a no-passing zone before crashing head-on with a Chevy SUV traveling in the opposite direction, causing the vehicle to burst into flames. Everyone in both vehicles was killed.
The SUV driver and a passenger, who have been identified as Jose Lerma, 67, and Isabel Lerma, 65, of Dalton, Georgia, were both killed. The five illegal immigrants killed in the crash were Honduran citizens, authorities said. The smuggler was from Houston, DPS said. 
None of those involved in the deadly crash have been publicly identified. An investigation is ongoing.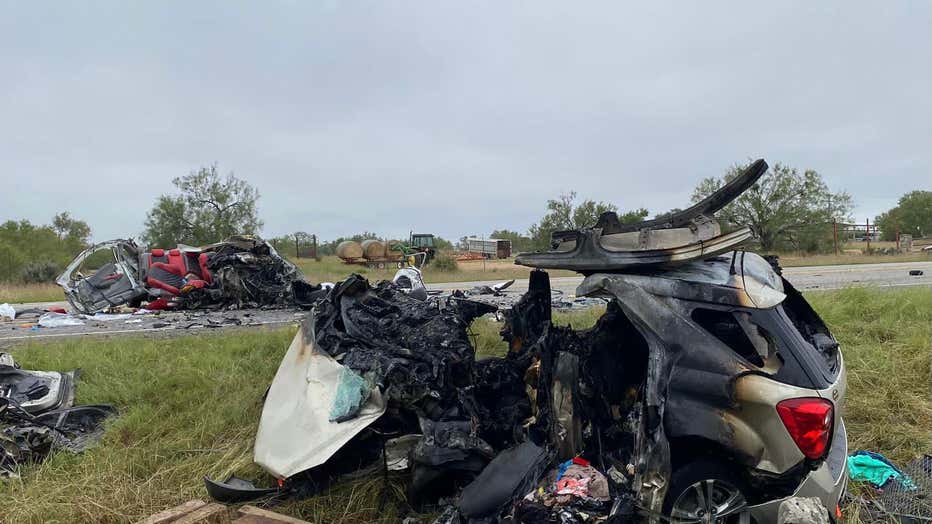 Photo of the crash (Source: Constable Emmanuel Zamora)
The southern border, particularly in Texas, has seen an increase in migrants attempting to illegally enter the U.S. Efforts by Texas to stem the flow have been impeded by the federal government, officials have said. 
The House Republican-led Committee on the Judiciary has launched an investigation into the Biden administration's handling of the immigration crisis along the U.S.-Mexico border, including whether the president had the authority to cut razor wire installed by Texas authorities on the Rio Grande near Eagle Pass.
FOX 26 Houston is now on the FOX LOCAL app available through Apple TV, Amazon FireTV, Roku, Google Android TV, and Vizio!
Since Biden took office, U.S. Customs and Border Protection (CBP) has encountered 6.3 million illegal immigrants along the southwest border, and DHS has released 2.9 million illegal immigrants into U.S. communities, a committee letter addressed to Department of Homeland Security (DHS) Secretary Alejandro Mayorkas notes. 
The committee added that there were more than 1.7 million known "gotaways" that evaded Border Patrol and entered the country since Jan. 20, 2021.
Fox News Digital's Greg Wehner contributed to this report.