Texas political leaders respond to same-sex marriage ruling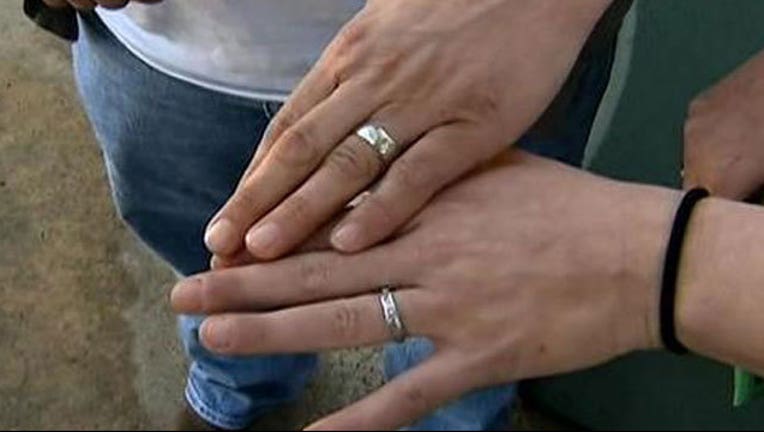 article
State politicians are responding to the U.S. Supreme Court's ruling that same-sex couples can marry in all 50 states.

Texas Attorney General Ken Paxton:
"Today's ruling by five Justices of the U.S. Supreme Court marks a radical departure from countless generations of societal law and tradition. The impact of this opinion on our society and the familial fabric of our nation will be profound. Far from a victory for anyone, this is instead a dilution of marriage as a societal institution.
"What is most disturbing is the extent to which this opinion is yet another assault on the actual text of the U.S. Constitution and the rule of law itself. Just as Roe v. Wade ripped from the hands of the American people the issue of life and placed it in the judge-made 'penumbras' of the Constitution, so has this opinion made clear that our governing document - the protector of our liberties through representative government - can be molded to mean anything by unelected judges.
"But no court, no law, no rule, and no words will change the simple truth that marriage is the union of one man and one woman. Nothing will change the importance of a mother and a father to the raising of a child. And nothing will change our collective resolve that all Americans should be able to exercise their faith in their daily lives without infringement and harassment.
"We start by recognizing the primacy and importance of our first freedom - religious liberty. The truth is that the debate over the issue of marriage has increasingly devolved into personal and economic aggression against people of faith who have sought to live their lives consistent with their sincerely-held religious beliefs about marriage. In numerous incidents trumpeted and celebrated by a sympathetic media, progressives advocating the anti-traditional marriage agenda have used this issue to publicly mock, deride, and intimidate devout individuals for daring to believe differently than they do. This ruling will likely only embolden those who seek to punish people who take personal, moral stands based upon their conscience and the teachings of their religion.
"It is not acceptable that people of faith be exposed to such abuse. The First Amendment to the U.S. Constitution protects our religious liberty and shields people of faith from such persecution, but those aspects of its protections have been denigrated by radicals, echoed by the media and an increasingly-activist judiciary. Consistent with existing federal and state Religious Freedom Restoration Acts that should already protect religious liberty and prevent discrimination based on religion, we must work to ensure that the guarantees of the First Amendment, protecting freedom of religion, and its corollary freedom of conscience, are secure for all Americans.
"Our guiding principle should be to protect people who want to live, work and raise their families in accordance with their religious faith. We should ensure that people and businesses are not discriminated against by state and local governments based on a person's religious beliefs, including discrimination against people of faith in the distribution of grants, licenses, certification or accreditation; we should prevent harassing lawsuits against people of faith, their businesses and religious organizations; we should protect non-profits and churches from state and local taxes if the federal government penalizes them by removing their 501(c)(3) status; and we should protect religious adoption and foster care organizations and the children and families they serve. Shortly, my office will be addressing questions about the religious liberties of clerks of court and justices of the peace.
"Displays of hate and intolerance against people of faith should be denounced by all people of good will and spark concern among anyone who believes in religious liberty and freedom for all.
"Despite this decision, I still have faith in America and the American people. We must be vigilant about our freedom and must use the democratic process to make sure America lives up to its promise as a land of freedom, religious tolerance and hope."
State Sen. Jose Rodriguez:
"I applaud the U.S. Supreme Court decision in Obergefell v. Hodges. This is a milestone moment in the civil rights history of our country. Today's decision affirms a sentiment I think a majority of Americans now recognize, that all people, gay or straight, should be permitted to build a family undisturbed by the government, and to make a lifelong commitment before their community to the person they love. Denying any person the right to participate in equal dignity in an institution as fundamental to American life as marriage is contrary to our nation's values. Denying this right is now and has always been unconstitutional."
"I congratulate couples who plan celebrate their nuptials in El Paso County in particular. While others across the state will no doubt still attempt to obstruct gay and lesbian couples from exercising their constitutional rights, I take great pride in knowing I represent a community that fully embraces equality for all its citizens."
"Still, we must recognize that today's decision is not the bookend to the LGBT rights movement. Here in Texas, we now add the state's marriage ban to the list of antiquated anti-gay laws that must be repealed by our legislature. We must also ensure that lingering discrimination, especially in the employment, public accommodation, and family law spheres, is rooted out."
"I join the LGBT community in celebration today, and look forward to continuing to stand with them as a member of the Texas Senate."
Former Gov. Rick Perry:
"I am disappointed the Supreme Court today chose to change the centuries old definition of marriage as between one man and one woman. I'm a firm believer in traditional marriage, and I also believe the 10th Amendment leaves it to each state to decide this issue. I fundamentally disagree with the court rewriting the law and assaulting the 10th Amendment. Our founding fathers did not intend for the judicial branch to legislate from the bench, and as president, I would appoint strict Constitutional conservatives who will apply the law as written."
U.S. Rep. Roger Williams:
"I believe marriage is a God-ordained institution between one man and one woman and any other definition is fraudulent as the Bible points out in Genesis," said Williams. "Today's ruling is a federal intrusion on the states' constitutional right to self-governance and will undermine the rights of people of faith. The Supreme Court is not supreme over religious teachings, and I will continue to protect religious freedoms from those who attempt to threaten it."
State Rep. Armando Walle:
"I am moved by the Supreme Court's eloquent decision on marriage equality. It is a relief to see the court hold that same-sex couples have a fundamental right to the institution of marriage that 'embodies the highest ideals of love, fidelity, devotion, sacrifice, and family.'
"Today's landmark decision marks a giant step toward equality and justice. But as the majority noted in its decision today, 'The nature of injustice is that we may not always see it in our own times.' Discrimination and injustice persists elsewhere for our LGBT community as well as in other marginalized populations. I will work hard with my colleagues at the legislature to ensure individual liberties and rights are not abrogated by characteristics like race, sexual orientation, gender identity, religion or socioeconomic status."
State Rep. Garnet Coleman:
"Words do not do justice right now. This is a truly historic day for America and this Court decision is one of the most momentous ones of my lifetime. We were expecting this decision, but it is still hard to believe that we are finally here."
"While this fight ended with today's decision, it did not begin with this challenge. It began with LGBT individuals bravely coming out in the face of incredible stigma and prejudice - demonstrating that gay people are not a separate group of people but our neighbors, friends, colleagues, and family. Ultimately we are here today because of their great work. This victory is for and because of them. Be Proud."
"Unfortunately, here in Texas, today's decision will face resistance by our state's leadership. Like many that have come before, history will prove this decision to be the right one. I urge our state's Republican leaders to not impede the progress that has been made."
"Regardless of what any court says, true marriage will always be between one man and one woman. This truth is biblical and a super majority of Texans have affirmed this through the democratic election process. It is a shame that once again the Supreme Court has decided to ignore the 10th Amendment to the U.S. Constitution and decided to legislate from the bench and impose their will on the states."
U.S. Rep. Lloyd Doggett:
"Today, another barrier to equality falls. As I urged in an amicus brief, the Supreme Court ruled that the Constitution forbids restricting same-sex marriages. This is a victory for families, friends, and all who cherish freedom. Love won."
State Rep. Donna Howard:
"Today's ruling places our country squarely on the right side of history.
"The law will now reflect what many of us have long recognized: that the institution of marriage is defined by love and commitment, and not by gender.
"Leading up to the next legislative session, Texas lawmakers should identify any statutes that need to be changed in the wake of today's decision, and I will request that Speaker Straus include that task among his Interim Charges.
"Our Travis County Clerk has indicated that she will be ready to issue marriage licenses as quickly as possible, and I look forward to getting a number of wedding invitations."
U.S. Rep. Joaquin Castro:
"Today, love prevailed. Finally, folks in each and every state can enjoy true marriage equality. This is welcome and overdue progress for our great nation, and I am proud that all committed, loving couples will now be treated fairly under the law."
Texas Democratic Party Chairman Gilberto Hinojosa:
"Love won today. Texas Democrats joyfully celebrate and welcome the United States Supreme Court's historic decision to let all Americans marry who they love, regardless of sexual orientation or identity.
"This monumental victory is a major advancement for the civil and human rights movement. We look forward to congratulating those future newlyweds in the weeks, months, and years to come.
"Today, our state and country are finally on the right side of history. However, there's still a group of narrow-minded Republican lawmakers standing on the wrong side. We will remain vigilant to ensure that the right to marry is not infringed."
Former State Representative and Texas Democratic Party County Affairs Director Glen Maxey:
"It is with joy and relief that -- for the first time in our state's history -- LGBTQ Texans now enjoy the equal right and benefits of full marriage equality."
"The millions of Americans who came out of the closet to live openly and proudly, creating loving families and relationships, made this victory possible."
"I salute all in the LGBTQ community and our allies for their persistent work and determination. We must also remember that the fight for full equality remains. LGBTQ Texans can still be fired from our jobs or denied an apartment rental just because we are gay. This isn't the end of the battle, but it is a major win that builds momentum for many victories to come."
State Rep. Celia Israel:
"Texans have been waiting a long time for today's decision, and I could not be happier," Israel said. "Today we celebrate the highest court in the land reaffirming the rights of all Americans, no matter who they love. I look forward to attending a lot of summer weddings!"
State Sen. Rodney Ellis:
"I am elated that marriage equality is now the law of the land, allowing loving, committed couples to formally celebrate their union. The Supreme Court took a long overdue step to recognize the human dignity of our gay and lesbian friends. No longer will they be considered second-class citizens, unable to marry the person they love. This sends a strong message to the world that equality under the law is one of the guiding principles of our nation's Constitution."