Texas woman texted plea for help before 8-member family shot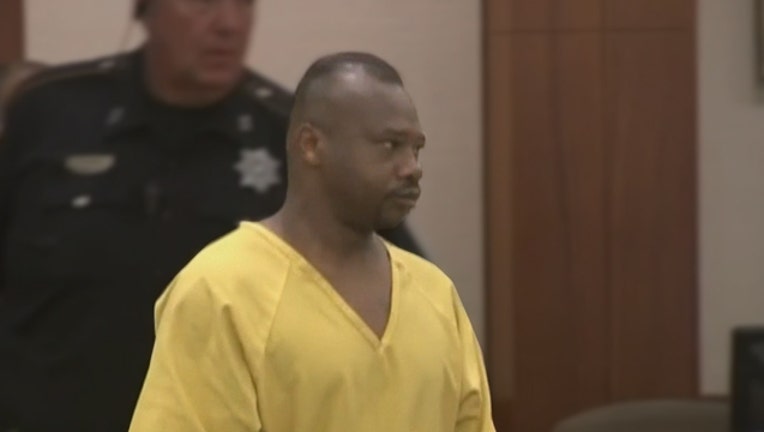 article
HOUSTON (AP) — A Houston woman being held captive by a man she had once been in a relationship with sent a text to her mother saying she was being threatened with a gun and pleading for help before the man fatally shot her, six children and her husband.
"My heart goes out to the mother who received the text from her daughter that she was in trouble, and the mother was many states away but of course did what any mother would do and called 911," Harris District Attorney Devon Anderson said Monday.
Valerie Jackson's mother placed that call to the Harris County Sheriff's Office in Houston. Deputies eventually forced their way into the home where a man with a violent criminal history, David Conley, had held the family captive on Saturday but retreated when Conley fired on them. Hours later, Conley gave himself up, allowing deputies to enter the home and make the gruesome discovery of the bodies. All had been shot in the head and most had been handcuffed.
"Anytime you hear about something that's this heinous, anytime you hear about the death of this many children in a single event, it is hard. It's hard," said Alycia Harvey, the lead prosecutor in the case.
Conley, 48, who has been charged with capital murder, stood handcuffed, shackled and wearing a yellow jumpsuit during his first court appearance on Monday. His court appointed attorney, Joseph Scardino, did not immediately return a phone call seeking comment.
While the sheriff's office has said problems between Conley and Jackson might have led to the shooting, Harvey declined to offer more details on the motive.
Neighbors on Monday said they were aware of the family's troubled history of domestic violence, with prior police visits and contact with Child Protective Services.
Along with Jackson, 40, those killed were identified as her husband Dewayne Jackson, 50; and their children Dewayne, 10; Honesty, 11; Caleb, 9; Trinity, 7; and Jonah, 6. Also killed was 13-year-old, Nathaniel, who was believed to be Conley's son from the relationship with Valerie Jackson.
Authorities and neighbors said Valerie Jackson and Conley had recently ended their relationship and that she had reunited with Dewayne Jackson Sr. Last month, Conley was charged with assault after allegedly pushing Valerie Jackson's head against their home's refrigerator. In 2013, Conley was charged with aggravated assault for threatening Jackson with a knife. He pleaded guilty and was sentenced to nine months in the county jail.
Vilma Flores, 61, who lives next door to Jackson and Conley, said the home was troubled.
"They didn't take care of (their children.) The two would go to the store or somewhere else and they would leave them alone," she said.
Carlos Sanchez, who lived across the street from the family, said he would sometimes see the youngest child, Jonah, playing in the street with his siblings and no adults around.
Sanchez said that last year he found the couple's 13-year-old son Nathaniel in their neighborhood after the boy tried to run away from home because Conley had tried to shave his head.
"I told the kid, 'If (Conley) does something to you, just tell somebody. Tell somebody.' He said, 'I will,'" Sanchez said.
Estella Olguin, a spokeswoman for Child Protective Services, said her agency had been involved with the family, but she declined to offer more details.
Sanchez and other neighbors questioned why authorities didn't go into the home sooner on Saturday, knowing the family's troubled history and Conley's violent criminal record. Neighbors said they saw deputies come to the home at least twice earlier Saturday, knock on the door and then leave when no one answered.
"Police knew about it. And I'm just shocked that they didn't actually do anything to prevent it," Sanchez said.
Sgt. Craig Clopton, the lead investigator, said Sunday he can't "reveal the exact parameters of those decisions."
"There are certain circumstances when we can make entry and certain circumstances where we can't. Even though we want to, sometimes the law prohibits that ... It wasn't until officers looked in the window and actually saw somebody injured that the decision was made that now we have enough to go in."
Investigators have declined to say when on Saturday the victims were shot or if any victims were alive when deputies first tried to enter the home.
Anderson said it would be three to four months before her office decides whether to seek the death penalty against Conley.
___
Follow Juan A. Lozano on Twitter at www.twitter.com/juanlozano70