City launches new text alert system for Austin's homeless population
AUSTIN, Texas - A new text message alert system for Austin's homeless population launched earlier this week.
Austin Public Health's Homeless Strategy Division launched the system on Wednesday, Oct. 25 with the first alerts going out to over 3,500 unhoused Austinites before last week's heavy rainfall and the upcoming cold front.
The new alert system will enable unhoused residents to receive urgent information and timely updates directly on their cell phone during a variety of circumstances including flood events, elevated seasonal wildfire risk, summer heat advisories, and winter storms.
The system may be expanded to deliver messages about lifeline services like monthly Pop-Up Resource Clinics hosted by ATCEMS, cold weather shelter activations, and more.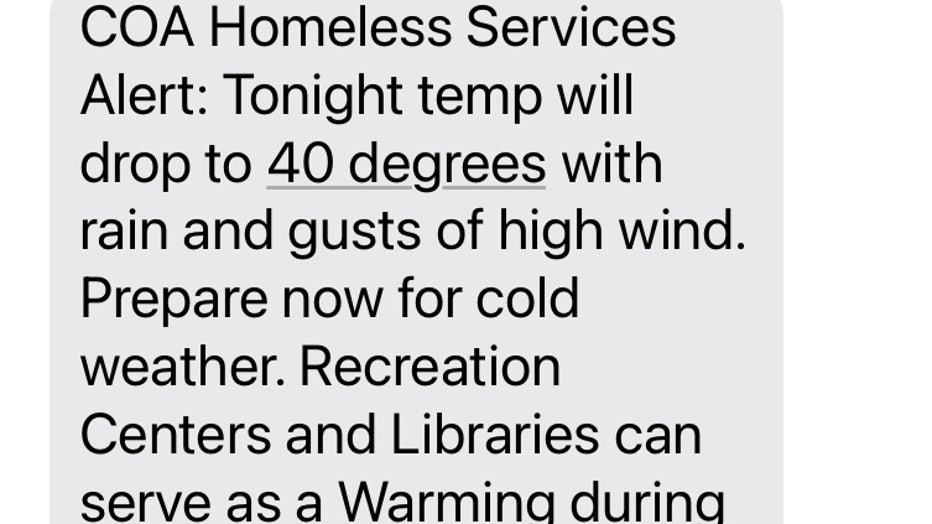 A photo of a text alert sent out over the City of Austin's new text alert system for Austin's homeless population.
READ MORE
The Homeless Strategy Division will soon launch an educational campaign focused on enrolling unhoused Austinites who have mobile phones to receive text notifications. Outreach teams will also be equipped with flyers with a QR code for a fast and easy subscription to the homeless alerts service.
APH says it began using mass text messaging notifications early in its COVID-19 response, which proved to be an efficient, unobtrusive, and cost-effective means of sharing relevant information with Austin area residents.
The development of this new alert service was supported by APH Information Technology, the City's Watershed Protection Department, and a variety of community partners.