The celebratory history continues, Juneteenth parade held in East Austin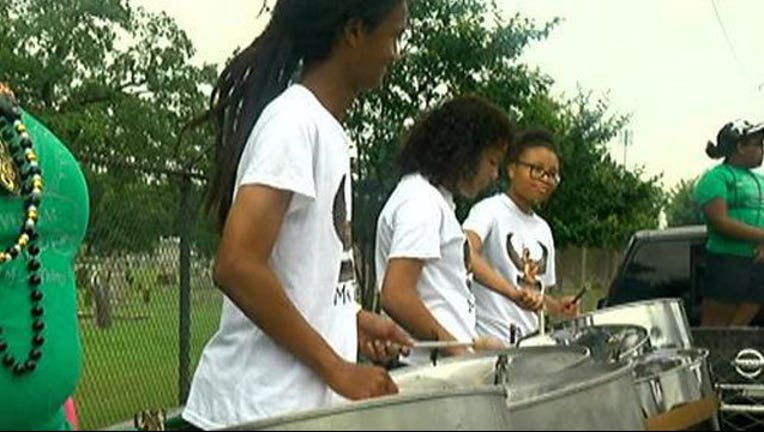 Steel drums resound on the streets of East Austin, as hundreds celebrate Juneteenth.
150 years ago, slaves in Texas got the word, that they were free. It's a holiday, attendees like Jahray Gray feels is not as well-known as it should be.
"A lot of the younger youths just come out here for the entertainment. They don't really know what the real reason for Juneteenth," said Gray, attendee.
The jubilation seen and felt here is probably just a taste of the amount of joy felt on June 19, 1865. Native Austinite Walter Martin says the celebration seems to attract more and more each year.
"I think this is the biggest crowd I've ever seen," said Martin.
This year the holiday falls, just a couple of days after the South Carolina church massacre.
Many at this year's Juneteenth say in the wake of the Charleston shooting, now is the time to come together, more than ever.
"Put that stuff that's occurring in other parts of the country, forget about all that, and just get together and heal," said Michael Eveleth, Region III Commander, Austin Police Department.
"I feel that everyone should be together. We all bleed the same color," said Kelvin Medearis, attendee.
Slaves in Texas did not know they were free until well over two years after the Emancipation Proclamation. Some consider the freedmen "trailblazers" for future generations.
"The people that paved the way for us to be doing this, we stand on their shoulders," said Gray.
Whether in East Austin, North, South, or West, every year, Juneteenth brings all colors, creeds and religions together, to celebrate a benchmark that would forever change American history.
"I believe in one race and it's the human race," said Gray.
The Greater East Austin Youth Association organized this year's parade and celebration.