Here's how third-party, independent candidates might threaten Democrats and Republicans in 2024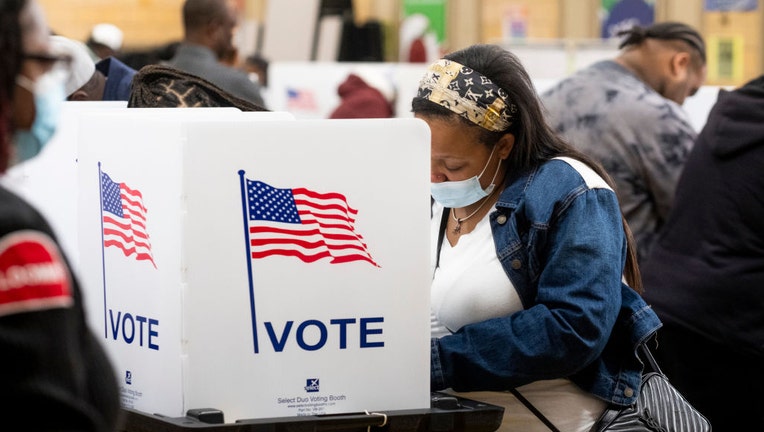 article
NEW YORK - Robert F. Kennedy Jr., an anti-vaccine conspiracy theorist and scion of the storied Democratic dynasty, launched an independent presidential bid on Monday. Cornel West, a philosopher and Black social leader, made the same choice last week. And No Labels, a new political party, is intensifying candidate recruitment efforts.
While the politics are murky, the fresh frenzy of outsider candidates threatens to weaken both major parties as Democratic President Joe Biden and Republican former President Donald Trump tighten their grip on their parties' presidential nominations.
There's little concern that the independent or third-party candidates would actually win the presidency, but they could siphon support from the ultimate Democratic and Republican nominees. A heightened sense of concern is spreading especially among Democratic officials, who see the outsiders as a dangerous wildcard that harkens back to 2016, when Green Party nominee Jill Stein may have enabled Trump's razor-thin victory by winning a small portion of the vote.
RELATED: Poll shows half of young Americans not excited about voting in 2024 election
Those associated with the third-party efforts make no apologies for their work.
"The American people have been hungry for options. So, get ready," Stein said in an interview. "What we're seeing is a voter rebellion. It's been a long time coming."
The rise of outsider candidates is an acute reminder of the intense volatility — and uncertainty — that hangs over the 2024 presidential election. Both of the major parties' most likely nominees — Biden and Trump — are extraordinarily unpopular. They're running as the nation grapples with dangerous political divisions, economic anxiety and a deep desire for a new generation of leadership in Washington.
Much more activity is expected soon.
RELATED: Trump's lawyers ask judge to postpone classified documents trial until after 2024 election
Stein said the Green Party will likely make an announcement about its presidential aspirations later this month. No Labels plans to make a formal decision about its presidential nominee in the spring.
And Kennedy formally launched an independent White House bid on Monday from inside Philadelphia's Independence Hall.
"I'm here to join you in making a new Declaration of Independence for our entire nation," Kennedy told hundreds of supporters on Monday. "We declare independence from the cynical elites who betray our home and who amplify our divisions. And finally, we declare independence from the two political parties."
The efforts face steep hurdles beyond winning more than a small fraction of voters. Simply qualifying for the ballot in every state will be a gargantuan task for outsider candidates without the benefit of existing political networks.
Jim Messina, who managed President Barack Obama's 2012 reelection campaign and is now a prominent Biden ally, didn't downplay the possibility that the new candidates could weaken Biden's coalition.
RELATED: Who is running for president in 2024? Meet the candidates
"I am a campaign manager so I am wired to plan for everything and panic about nothing, and the threat of a third party needs to be planned for seriously," Messina said.
Noting that no independent or third-party candidate has ever won even a single electoral vote — never mind the 270 needed to claim the presidency — he said Biden and his team still need to be aggressive in warning voters about the threat that long-shot outsider candidates present.
"You need to tell people that a vote for a candidate without a path to 270 means they're lighting their ballot on fire," Messina said.
That may be easier said than done.
Gallup released new polling last week showing that 63% of U.S. adults currently agree with the statement that the Republican and Democratic parties do "such a poor job" of representing the American people that "a third major party is needed." It was among the highest figures since Gallup first asked the question in 2003.
Still, it's far from certain that dissatisfied voters would ultimately cast a ballot next fall for Kennedy, West or a centrist No Labels candidate. Historically, polls showing that people want a third party to exist have rarely translated into substantial support for actual third-party candidates.
On paper, Kennedy may be most likely to draw support from Trump's coalition given his embrace of anti-vaccine conspiracy theories and positive attention from far-right media.
In an interview, however, Trump senior adviser Chris LaCivita said Democrats have much more to lose as independent and third-party candidates line up to run. That's also the consensus of many Democratic officials.
"The most intriguing thing about this is, you have an incumbent president of the United States, and all of the elements of the third-party run are coming out of his coalition, not ours," LaCivita said.
The Trump and Biden campaigns are quick to note that it will be very difficult, if not impossible, for the political outsiders with no major funding sources or political infrastructure to get their name on the ballot in most states. No Labels is the big exception, having already secured a presidential ballot line in 11 states backed by an army of paid signature collectors.
In Arizona, alone, minor party candidates must collect more than 34,000 signatures to qualify for the general election ballot. Signatures must be collected in at least five different counties, and at least 10% of signatures must be from counties with populations of less than 500,000. An independent candidate must collect more than 43,000 signatures.
Michigan requires a minor party candidate to collect 44,619 signatures and independents to collect 12,000. And in Nevada, a minor party or independent candidate must collect 10,095 signatures to qualify for the ballot. At least 2,524 signatures must be collected in each of Nevada's four congressional districts.
But an outsider candidate does not need to qualify for the ballot in every state to have a profound political impact. Just ask Brendan McPhillips, the state director for Biden's Pennsylvania efforts in the last election.
Like many Democrats, he still blames Stein for helping Trump win the battleground state in 2016. While it's impossible to say for sure, Trump carried Pennsylvania that year by just 44,000 votes, while Stein, an outspoken progressive, won nearly 50,000 votes in the state.
"It's dangerous," McPhillips said of the independent and third-party candidates. "But I also think the Biden campaign is going to be smart about this. They're going to make sure everybody knows the consequences of throwing your vote away on some egomaniac's vanity project."
--
This story has been corrected to show that no independent or third-party candidate has won an electoral vote in more than half a century, not that no independent or third-party candidate has ever won an electoral vote.
___
AP writers Ali Swanson in Philadelphia and Jonathan J. Cooper in Phoenix contributed.