Tornado rips through Blanco County RV park
ROUND MOUNTAIN, Texas - A tornado touched down at Round Mountain just outside Blanco County damaging a local RV park.
The tornado touched down at the Hofbrau RV Park at around 5 a.m. Sunday morning.
Thomas Thompson was cleaning up the wreckage left by a tornado. He is not a resident at the RV park, but says he had to come out and help when he heard what happened."This is getting less of a mess. I didn't know any of these people before I came over here today," said Thompson.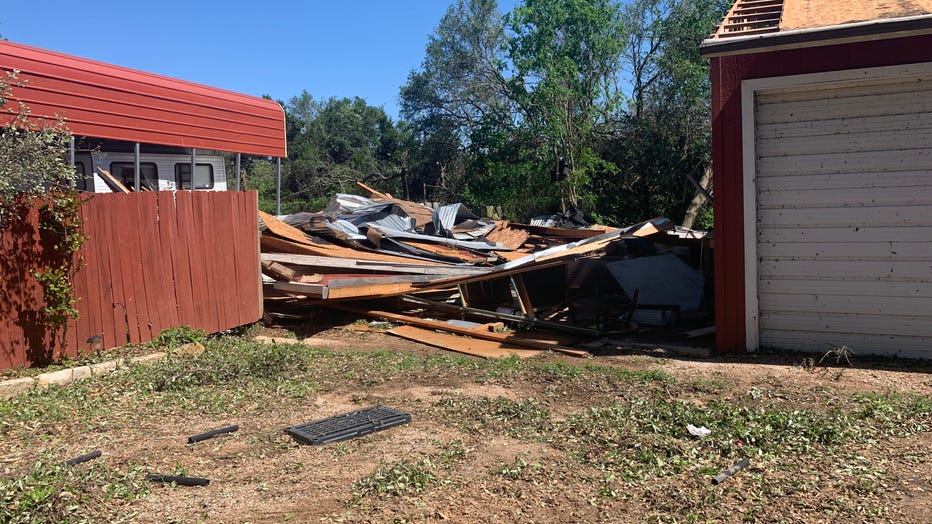 He's helping by cutting up fallen trees with his chainsaw. BrendaBrown and her husband were just a few of the residents he helped. "It's amazing. God is working today," said Brown.
Brown has lived at the Hofbrau RV Park with her husband since 2009. She says Sunday morning. she woke up when her trailer started shaking.
"We heard the hail, the thunder, and the trailer was rocking. We got up and just braced ourselves till it passed," she said.
Besides a broken window and some trees thrown around, Brown says the damage to her home was minor. Although she says her neighbor's had it worse.
"There's trailers on their side. They are moved off their lots. It's sad, very sad," said
EMS Chief Ben Oakley says just at the RV park, 35 RVs were affected with around five with major damage. Oakley says around 40 people have been impacted.
"No fatalities at all on there. There are two people injured. Nobody had to be hospitalized," said Oakley.
He says his team plans to be out at the RV park for a while helping those like Brown clean up."It's not what we planned, but by the grace of God, we're alive," said Brown.