Truck rampage in Nice rattles an already unsettled France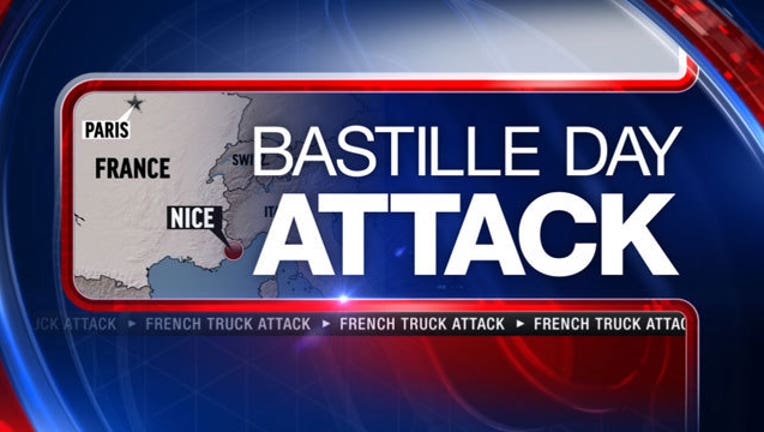 article
PARIS (AP) — The Bastille Day truck attack in Nice — occurring when France was already under a heightened state of emergency — could further unnerve a country already traumatized by past extremist attacks and persuade some worried citizens simply to stay at home, some experts say.
Last week, French security forces failed to stop Mohamed Lahouaiej Bouhlel from barging past police vehicles at the entrance to Nice's famed Riviera beachfront on the country's national day, zigzagging his truck to instantly transform a crowd of families and fun-seekers into utter tragedy.
"The fact that this attack occurred when security measures were supposedly in place makes this very different from previous attacks," said Neil Greenberg, a professor of military mental health at King's College London. "That undermines the trust people have in the government to stop these events and it is extraordinarily hard to rebuild that trust once it's lost."
Greenberg said he expected to see a dip in the numbers of French people willing to venture into public places that might now be considered risky. He noted that past attacks on Paris — including the January 2015 shootings at the offices of the satirical magazine Charlie Hebdo, and the coordinated November strikes that killed 130 people — seemed more targeted, and thus avoidable, compared with the random group of Nice residents and tourists engulfed in chaos late Thursday night.
"Nice is known as the place where people go to the beach," Greenberg said. "The attack there may have more of an impact than the Paris attacks because people may now be thinking, 'where can I go to relax and be safe?'" He said that the pattern of repeated attacks could eventually prompt people to change their behavior, if they fear the government is unable to protect them.
Still, Greenberg said the only people likely to develop significant mental health problems after such events are those already suffering from psychiatric illnesses, and that while some people might experience some short-term anxiety or stress, it was unlikely there would be a significant spike in mental health disorders among the general population. Past studies show that most people who witness traumatic events recover on their own and that attempts by mental health professionals to offer counseling in the immediate aftermath of the events could actually worsen their prognosis, he said.
Other experts warned it's critical that the French government's reaction to the latest attack doesn't further fragment the country.
"There are concerns about whether the Muslim community will be used as a scapegoat, which could increase alienation and ultimately drive more recruitment into the radicals' cause," said Andrew Silke, director of terrorism studies at the University of East London. He said that countries with a history of repeated terror attacks — like Northern Ireland and Israel — have reacted to such violence with surprising resilience.
"What you see is that people pull together and communities become more bonded against the attacks," he said, predicting that the same phenomenon could happen in France. Silke said the sporadic nature of these attacks means that they can still unsettle France's national psyche, but that the more often they happen, the less impact they will have.
"The most disruptive attacks are those that come out of the blue, like Sept. 11," Silke said, adding that France is unfortunately becoming more accustomed to extremist attacks on its soil.
Given its long and fractious history marked by bloody rebellions, revolutions and religious divides, some experts said the latest string of attacks will pose little threat to France's ability to heal.
"France has been at the heart of two world wars and they've kept on ticking just fine," said Frank Farley, a past president of the American Psychological Association. "The French people don't get knocked down that easily."
For Italian retiree Piera Badino, canceling a planned trip to Nice because of the truck rampage was out of the question.
"I did not think of not coming," Badino said. "We cannot stay closed at home. Otherwise what are we, half dead? So we can never stop."
___
Helena Alves in Nice contributed to this report.