Trump's no 'dying in the streets' pledge faces reality check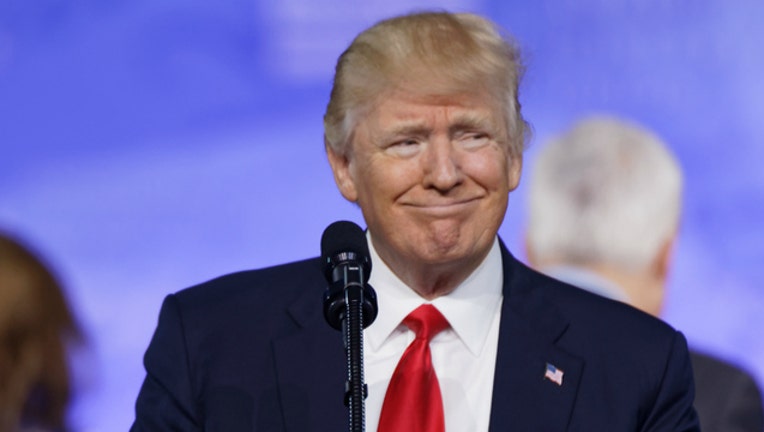 article
WASHINGTON (AP) - President Donald Trump has often said he doesn't want people "dying in the streets" for lack of health care.
But in the United States, where chronic conditions are the major diseases, people decline slowly. Preventive care and routine screening can make a big difference for those at risk for things such as heart problems and cancer, especially over time.
That edge is what doctors and patients fear will be compromised if Republican efforts to repeal the Obama-era health law lead to more uninsured people. The uninsured tend to postpone care until problems break through.
It's a message that lawmakers are hearing from doctors' groups and constituents, in letters and emails, and at town hall meetings.
About 10 years ago, Cathy Cooper of Ocala, Florida, was battling a blood cancer. Against doctor's advice, she continued to work full time as a paralegal, through chemotherapy and radiation, just to preserve her health insurance. Cooper said she would schedule chemo on Fridays, spend the weekend sick from side effects and report back to work Monday.
Now in her early 30s, Cooper is healthy. She has her own business as a photographer specializing in maternity, newborns, families and seniors, and a family of her own. Her health insurance is through HealthCare.gov. With her cancer history, Cooper is worried about changes under debate that may reduce options for people with medical conditions. She said she voted for Hillary Clinton in the presidential election.
"The 'dying in the streets' thing - it's an over-time process," said Cooper. "If I didn't have insurance, it (cancer) could just keep forming inside me and I wouldn't know. Then I'd go into the hospital, and there's nothing they could do. And then, yeah, I could die in the street. But that's because I wouldn't have had insurance to get things checked out prior to that point."
In Charlotte, North Carolina, Dr. Octavia Cannon said that's basically what happened to one of her patients several years ago. The patient, a working mother with three young children and more than one job, was uninsured after losing previous Medicaid coverage. She went to Cannon, an osteopathic ob-gyn, because of abnormal bleeding. Cannon said she knew something was horribly wrong on the basis of her initial physical examination. The pathology lab confirmed advanced cervical cancer.
"In six months, she was dead," Cannon recalled. "All I could think was 'Who is going to take care of these babies?' If she had only come in for a Pap smear."
Such stories are swirling around the Senate debate as Majority Leader Mitch McConnell, R-Ky., pushes toward a vote on legislation rolling back much of former President Barack Obama's Affordable Care Act. The GOP bill has been facing headwinds since the Congressional Budget Office estimated it would lead to 22 million more uninsured people by 2026.
Administration officials say the nonpartisan budget office has been wrong before about health coverage, and its analytical methods may give too much weight to the current requirement that most people carry health insurance or risk fines. (Republicans would repeal that immediately.) Health and Human Services Secretary Tom Price said Trump's goal is more people with health insurance, not fewer.
"Nobody is looking at it in its totality," Price said recently on NBC. "We will bring down premiums, we will increase coverage, we'll increase choices. And I believe we'll increase the quality of care provided in this nation."
There's not much debate about the negative consequences of being uninsured.
Studies by the National Academies have found that the uninsured are more likely to receive too little care, and too late; be sicker and die sooner; and receive poorer care in the hospital.
But surprisingly, there are questions about whether gaining coverage produces tangible health benefits.
Major government surveys have documented clear improvements to family finances associated with Obama's coverage expansion. On health itself, the evidence is mixed.
Medicaid expansions in New York, Maine and Arizona in the early 2000s were associated with a 6 percent decline in death rates in those states, compared with neighboring states that did not expand coverage for low-income people. A study of Massachusetts found a similar trend.
But in Oregon a Medicaid expansion study that found a marked reduction in depression failed to detect significant improvement in blood sugars, blood pressure and cholesterol levels - risk factors for heart disease and diabetes.
Dr. Cyrus Hamidi, a solo family medicine practitioner in Sparks, Maryland, said having insurance is a start, reducing barriers to access for patients.
"If you have to pay to go to the doctor, then you worry about payment instead of what you need to do to reduce the risk of dropping dead," he said.
Gaywin Day, a union electrician from Austin, Texas, said being able to get coverage under Obama's law in the aftermath of a medical crisis has been "a lifesaver."
Day, in his early 60s, was between jobs and uninsured when he had a stroke in March. A couple of months later, a "special enrollment period" enabled him to get subsidized coverage through HealthCare.gov, opening doors to physical therapy and follow-up medical care.
Now, Day no longer uses a walker or cane. He's thinking about returning to work.
"Nobody wants anybody dying in the streets, but if I hadn't got this. ... I could just be shriveling up in my bed," he said.
He didn't cast a ballot last year. "I don't vote," said Day. "I do a lot of praying."
___
Associated Press writer Sheila Burke in Nashville, Tennessee, contributed to this report.