Jurassic jackpot: Entire T. rex dinosaur skeleton found in US auctions for $6.2 million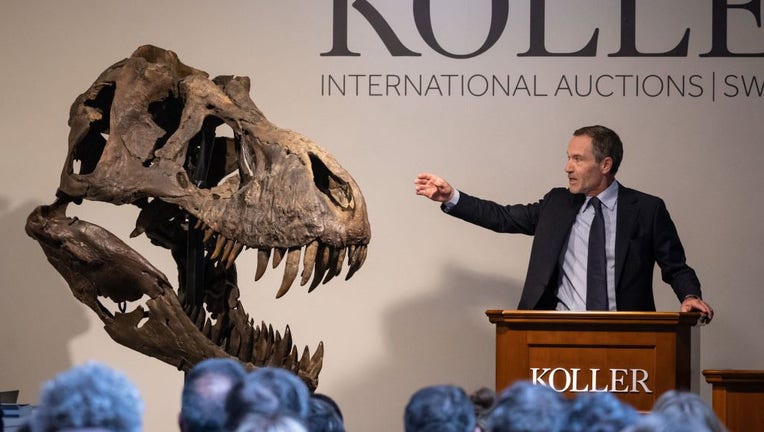 article
One of the most spectacular Tyrannosaurus rex skeletons in existence sold for millions of dollars Tuesday at a Switzerland auction.
The well-preserved and brilliantly restored fossil fetched 5.5 million Swiss francs ($6.18 million), including the "buyer's premium" and fees, Koller Auctions' marketing director, Karl Green, told FOX Weather. It was first estimated to sell between 5 and 8 million Swiss francs.
"It went to a private European collector, and we do not know yet what they have in mind for showing it but will try to find out," Green said. "We hope it will be shown publicly somewhere."
PREHISTORIC SABERTOOTH SKULL FOUND IN IOWA LIKELY LAST OF SPECIES TO WALK EARTH, RESEARCHERS SAY
The approximate 67-million-year-old skeleton, known as TRX-293 Trinity, consists of nearly 300 bones (50.17% original bone material) from three dinosaurs excavated between 2008 and 2013 from the Hell Creek and Lance Creek formations in Montana and Wyoming, according to the auction house. Both sites are known for two of the most important T. rex discoveries.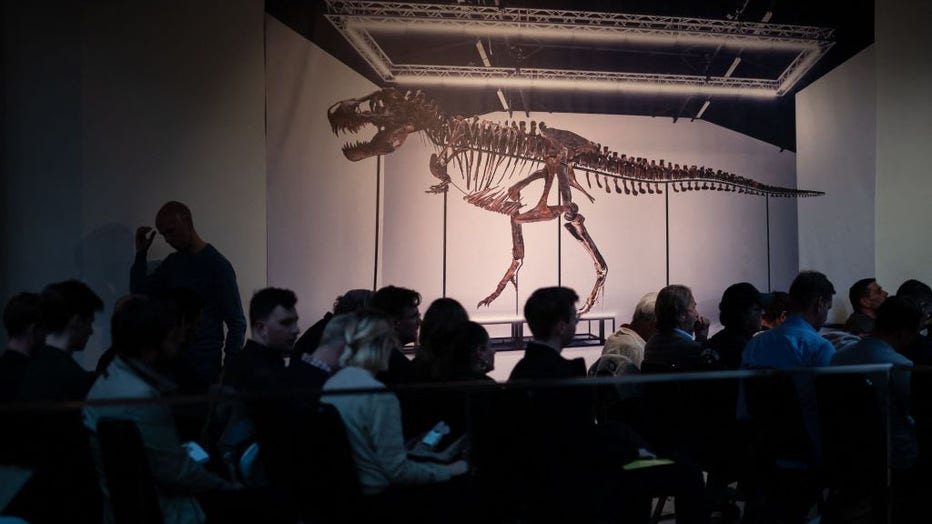 Biders sit next to a picture of Trinity during the sale of the Tyrannosaurus-Rex (T-Rex) skeleton by Koller auction house in Zurich, on April 18, 2023. (Photo by Fabrice Coffrini/AFP via Getty Images)
'Dinosaur skulls are very rare'
In 1997, 'Sue' sold at auction for $8.4 million to Chicago's Field Museum of Natural History. Another T. rex skeleton, known as 'Stan' saw a world-record hammer price of $31.8 million in 2020, purchased by the History Museum Abu Dhabi. It catapulted dinosaur fossil prices into a realm usually reserved for the most sought-after works of art, the auction house said.
"Dinosaur skulls are very rare; they are among the most valuable components of fossil skeletons," said scientific advisor Nils Knötschke, one of the world's leading fossil preparators. "In fact, most dinosaurs are found without their skulls. But here we have original Tyrannosaurus skull bones, all from the same specimen."
Trinity was dynamically mounted in a scientifically accurate and modern pose at a astonishing length of 11.6 meters (38 feet). It towers at a height of 3.9 meters (12.8 feet). It's a process that often takes between seven and 10 years for a team of palaeontologists, preparators and conservators.
'I COULDN'T BELIEVE WHAT I WAS LOOKING AT': RECORD-BREAKING DINOSAUR FOOTPRINT UNEARTHED IN ENGLAND
According to the April 2021 scientific journal Nature, only 32 skeletons of adult T. rex specimens have been found worldwide, the auction house reports, adding that the rare adult skeletons that have been unearthed are almost all now in institutional collections.
DISCOVERY OF 256 FOSSILIZED TITANOSAUR EGGS SHEDS NEW LIGHT ON DINOSAUR SPECIES
The T. rex was one of the last dinosaur species to exist at the time of the abrupt extinction of this order in the Cretaceous.