U.S. Marshals arrest Intoxication manslaughter fugitive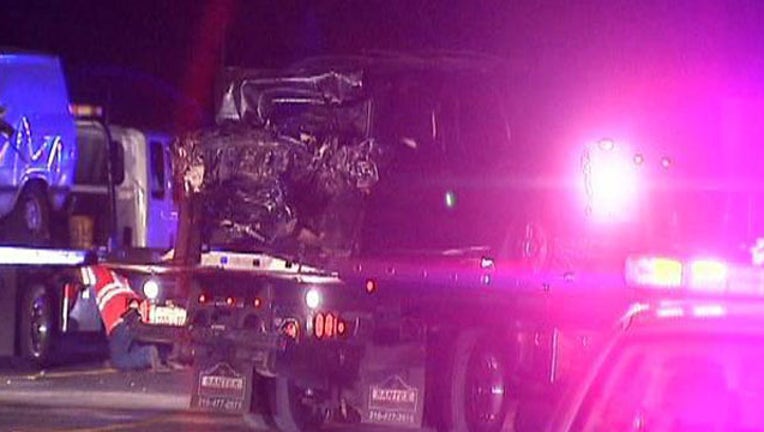 article
PFLUGERVILLE, Texas - A fugitive from Mexico, a widow's tenacity and pursuit of justice helped the U.S. Marshals catch a man wanted for intoxication manslaughter.
The initial arrest warrant was filed in 2010.
For nearly six years, Mrs. Garcia, as she wished to be called, has had to try and explain to her nine-year-old daughter and 13-year-old son how their father died and why the man who troopers say killed him was not in jail.
"When you see their faces it breaks your heart really, it really does. It's out of your hands. You have much to do. It's out of yours hands and that's part of the death that breaks your heart more," said Garcia.
On August 20th of 2009, troopers say Edgardo Lopez-Valadez crossed into oncoming traffic on FM 1825 in Pflugerville and struck a van driven by 37-year-old Rafael Garcia-Balderas.
Garcia-Balderas died on the way to the hospital.
Lopez-Valadez was also taken to the hospital. He was discharged unbeknownst to troopers.
"He was able to freely leave the hospital and ultimately fled to Mexico," said U.S. Marshal Hector Gomez.
But not before hospital staff got a blood sample. Lopez-Valadez's blood alcohol content registered at a .15. The legal limit is .08.
A warrant for intoxication manslaughter was issued, but years went by with no arrest.
"It was difficult knowing that someone who did something that devastated our lives, it's just, there's no words," said Garcia.
In 2013 Garcia, along with representatives from mothers against drunk driving contacted U.S. Marshal Hector Gomez.
"We quickly found him in a city called Arandas Jalisco, Mexico. He was there. We knew he was there all this time," said Gomez.
Marshals were working to get a warrant to bring the Mexican national back to the states, but they recently learned that he moved into an apartment complex off Slaughter Lane in South Austin.
On Tuesday, marshals arrested him there. Lopez-Valadez is now in the Travis County Jail.
"It was a surprise," said Garcia. "I always had hope and faith."
Garcia says she is happy to have this closure for her kids. Now she can focus more on reminding them just how special their father was.
"He was a great husband, a great daddy," she said.