U2's mesmerizing visual spectacle launches Las Vegas' grand Sphere venue
LAS VEGAS (AP) - It looked like a typical U2 outdoor concert: Two helicopters zoomed through the starlit sky before producing spotlights over a Las Vegas desert and frontman Bono, who kneeled to ground while singing the band's 2004 hit "Vertigo."
This scene may seem customary, but the visuals were created by floor-to-ceiling graphics inside the immersive Sphere. It was one of the several impressive moments during U2's "UV Achtung Baby" residency launch show at the high-tech, globe-shaped venue, which opened for the first time Friday night.
The legendary rock band, which has won 22 Grammys, performed for two hours inside the massive, state-of-the-art spherical venue with crystal-clear audio. Throughout the night, there were a plethora of attractive visuals — including kaleidoscope images, a burning flag and Las Vegas' skyline, taking the more than 18,000 attendees on U2's epic musical journey.
RELATED: James Dolan reshapes Las Vegas with opening of The Sphere
"What a fancy pad," said Bono, who was accompanied onstage with guitarists The Edge and Adam Clayton along with drummer Bram van den Berg. He then stared at the high-resolution LED screen that projected a larger version of himself along with a few praying hands and bells.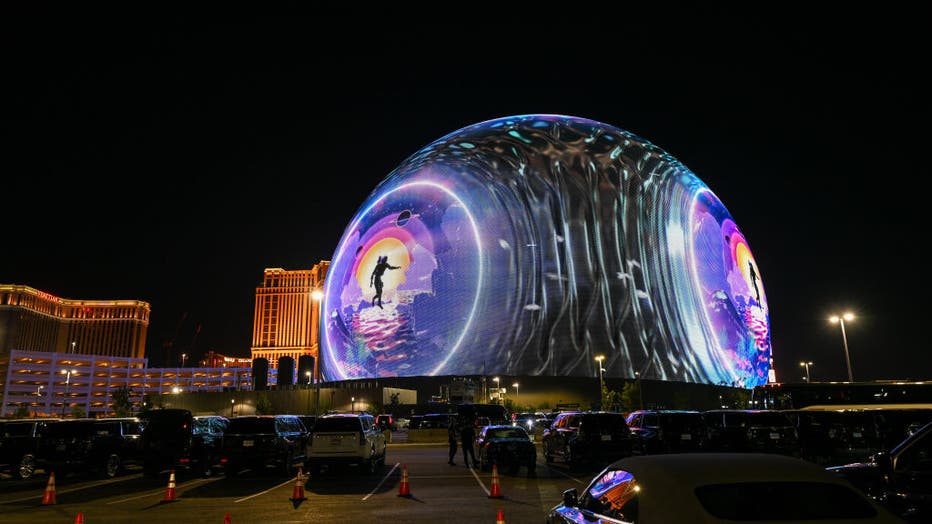 The Sphere is seen during the opening night with U2:UV Achtung Baby Live concert at the Venetian Resort in Las Vegas, Nevada, United States on September 29, 2023. (Photo by Tayfun Coskun/Anadolu Agency via Getty Images)
Bono then paid homage to the late Elvis Presley, who was a Las Vegas entertainment staple. The band has rocked in the city as far back as 1987 when they filmed the music video for "I Still Haven't Found What I'm Looking For" on the Strip during a tour in 1987.
"Look at all this stuff. … Elvis has definitely not left this building," he continued. "It's an Elvis chapel. It's an Elvis cathedral. Tonight, the entry into this cathedral is a password: flirtation."
U2 made their presence felt at the $2.3 billion Sphere, which stands 366-feet (111 meters) high and 516-feet (157 meters) wide. With the superb visual effects, the band's 25-show residency opened with a splash performing a slew of hits including "Mysterious Ways," "Zoo Station," "All I Want is You," "Desire" and new single "Atomic City."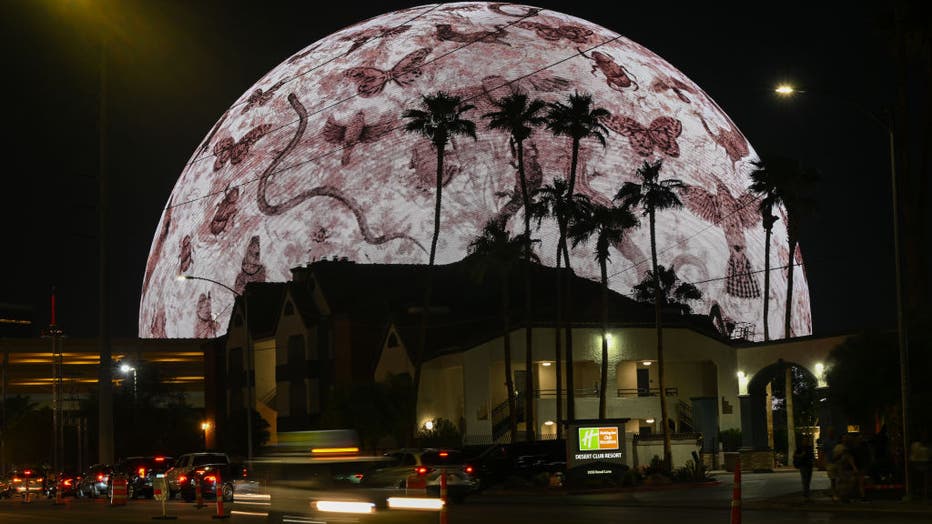 The Sphere is seen during the opening night with U2:UV Achtung Baby Live concert at the Venetian Resort in Las Vegas, Nevada, United States on September 29, 2023. (Photo by Tayfun Coskun/Anadolu Agency via Getty Images)
On many occasions, the U2 band members were so large on screen that it felt like Bono intimately sang to audience on one side while The Edge strummed his guitar to others.
RELATED: Fontainebleau Las Vegas: Sin City's newest hotel sets opening date
The crowd included many entertainers and athletes: Oprah, LeBron James, Matt Damon, Andre Agassi, Ava DuVernay, Josh Duhamel, Jason Bateman, Jon Hamm, Bryan Crankston, Aaron Paul, Oscar de la Hoya, Henrik Lundqvist, Flava Flav, Diplo, Dakota Fanning, Orlando Bloom and Mario Lopez.
After wrapping up The Beatles' jam "Love Me Do," Bono recognized Paul McCartney, who was in attendance, saying "Macca is in the house tonight." He acknowledged Sphere owner James Dolan's efforts for spearheading a venue that's pushing forward the live concert audio landscape with 160,000 thousands of high-quality speakers and 260 million video pixels.
The Sphere is the brainchild of Dolan, the executive chair of Madison Square Garden and owner of the New York Knicks and Rangers. He sketched the first drawing of venue on a notebook paper.
"I'm thinking the that the Sphere may have come into existence because of Jim Dolan trying to solve the problem that The Beatles started when they played Shea Stadium," he said. "Nobody could hear you. You couldn't hear yourselves. Well, the Sphere's here. … Can you hear us?"
Bono pointed into crowd and shouted out Dr. Dre, Snoop Dogg and Jimmy Iovine - who took in the band's spectacular show. At one point, Bono became emotional when he dedicated a song to the late Jimmy Buffett's family who attended the concert too.
Afterwards, Bono spoke about performing on stage for the first time without drummer Larry Mullen Jr., who is recovering from back surgery. He acknowledged Dutch drummer Bram van den Berg's birthday and and filling in for Mullen.
"I would like to introduce you to the only man who could stand, well, sit in his shoes," said Bono, who walked toward Berg as some in the crowd began to sing "Happy Birthday." He handed the microphone to Berg, who offered a few words.
"Let there be no mistake, there is only one Larry Mullen Jr," Berg said.
As U2 wrapped up their show, a bright light shined from the ceiling and the massive screen began to fill with images of birds, insects and reptiles above a lake. The band closed its first Sphere concert with "Beautiful Day," which one three Grammys in 2001.