UAW strike update: What's inside Ford's tentative deal with the union, what happens next
DETROIT (FOX 2) - After about six weeks on strike, the UAW and Ford Motor Co. reached a tentative deal Wednesday night.
The deal includes:
25% wage increases
150% raise for current Ford temporary workers
Up to 85% immediate raise for some workers at Sterling Axle/Rawsonville
68% increase of starting wages, to $28
33% increase of top wages, from $32.32 to $40
Reinstatement of cost of living adjustments
Improvements for retirees, pensions, and 401K plans
Now that a deal has been reached, workers at Michigan Assembly, Kentucky Truck Plant, and Chicago Assembly will get back to work. However, the tentative agreement has to go through the ratification process.
First, the UAW National Ford Council will vote on whether to send the agreement to the membership Sunday. If they vote to do so, a Facebook Live will be held to share details with members.
UAW members will then vote to approve the deal. If the agreement doesn't get enough "yes" votes from union membership, it's back to the picket line and back to the bargaining table to try again.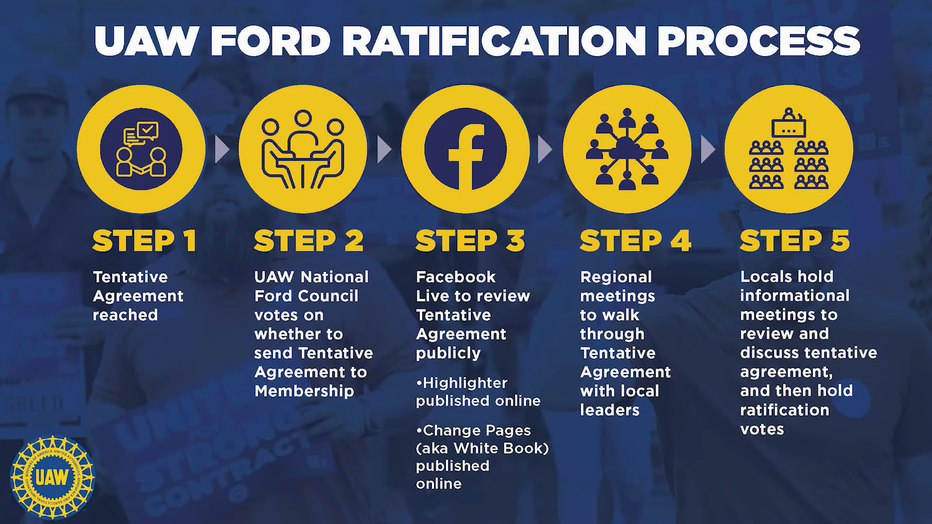 Ford responded after the deal was announced, saying it is "pleased to have reached a tentative agreement on a new labor contract with the UAW covering our U.S. operations."
Wednesday's tentative deal with Ford puts the pressure on Stellantis and General Motors to reach agreements, too. The strike expanded against both automakers this week.
UAW Vice President Chuck Browning said getting the striking Ford employees back to work as the ratification process plays out will push the other automakers to reach a deal and get their workers back to the job.
"Like everything we've done in this stand-up strike, this is a strategic move to get the best deal possible. We're going back to work at Ford to keep the pressure on Stellantis and GM. The last thing they want is for Ford to get back to full capacity while they mess around and lag behind," Browning said.
The strike against the Big Three began on Sept. 15 with three facilities first taking to the picket line. Since then, more facilities have been added and tens of thousands of UAW members have been walking the line.
"I just can't wait to get back to work and just get on with my life," said Keith Jurgelewicz. "This is my first strike, but I put in a lot of time and effort with Ford, so I'm just really excited that it's going to work out for everybody – hopefully GM and Stellantis can get their deals done."
Jurgelewicz works at Michigan Assembly, the first Ford plant to be called to the picket line in September.