University of Utah gymnast retires amid alleged 'verbal and emotional abuse' from coach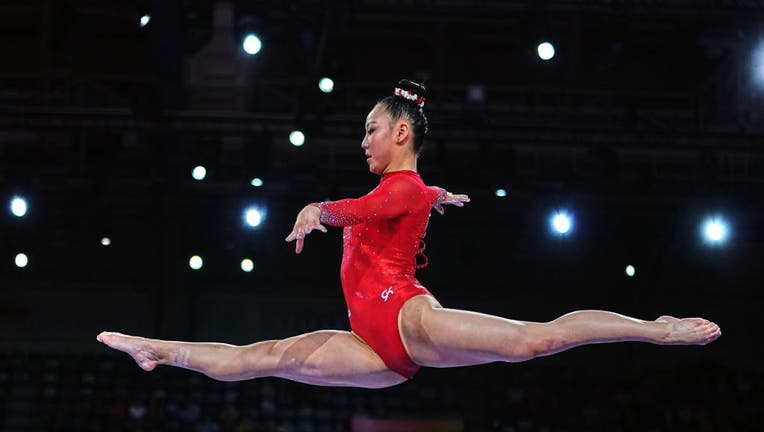 article
This story discusses suicide. If you or someone you know is having thoughts of suicide, please contact the Suicide & Crisis Lifeline at 988 or 1-800-273-TALK (8255).
A member of the University of Utah women's gymnastics team announced her retirement from the sport and withdrawal from the school on Friday, citing "verbal and emotional abuse" from head coach Tom Farden and being "completely dismissed" by the athletic department when she tried to report it.
Kara Eaker, a two-time gold medalist at the World Championships and alternate for the 2020 Olympics, said she has recently contemplated suicide and self-harm and was recently diagnosed with "severe anxiety and depression" while also suffering from "panic attacks, PTSD, and night terrors."
"I accepted an athletic scholarship to the University of Utah because I truly believed the school was a place where I could contribute to the community, be a strong asset to the gymnastics team, and be free to develop myself and future career," Eaker wrote in an Instagram post.
CLICK HERE FOR MORE SPORTS COVERAGE ON FOXNEWS.COM
"For two years, while training with the Utah Gymnastics team, I was a victim of verbal and emotional abuse. As a result, my physical, mental and emotional health has rapidly declined. . . .
"During my recruiting process, I was promised a 'family' within this program and a 'sisterhood' with my teammates, who would accept me, care for me, and support me. But instead, after I entered as a freshman, I was heartbroken to find the opposite in that I was training in an unhealthy, unsafe, and toxic environment."
Eaker wrote that instead of being constructively critiqued, she was ridiculed "to the point of tears in front of the whole team."
"I was scared to death by the loud and angry outbursts from the coach, 'What the hell is wrong with you!' What the f-ck are you doing!' 'You better get your sh-t together!' and 'Pull your head out of your ass!'" she wrote.
"The words are so intense and hurtful that it feels like a knife that's stabbed so deep in my body that there's no way to pull it out."
Eaker added that even texts from the coach "caused a panic attack." She said she is speaking out "for all the women who can't because they are mentally debilitated and paralyzed by fear." 
"I, too, find myself frozen in moments when fear takes over. But I can no longer stand by while perpetrators are still allowed in sports and are causing young girls and women to suffer," she wrote.
An investigation was recently completed into Farden and the culture of the women's gymnastics program, which found that Farden "did not engage in any severe, pervasive or egregious acts of emotional or verbal abuse of student-athletes," nor did he "engage in any acts of physical abuse, emotional abuse or harassment." However, it was found he did make "personally degrading comments."
"Despite these findings, we note that a majority of student-athletes interviewed, two-thirds of the student-athletes who participated on the 2022-23 Women's Gymnastics Team, and all but one current or former staff member affiliated with the Women's Gymnastics Program described Coach Farden as a caring, passionate coach and did not report any concerns related to the treatment of student-athletes," the university said in their investigation.
Eaker called the investigation report "incomplete at best," saying it has no credibility, because it "omits crucial evidence and information."
The University of Utah did not immediately respond to a request for comment.
Read more of this story from FOX News.