Victim files lawsuit in 2222 gravel truck crash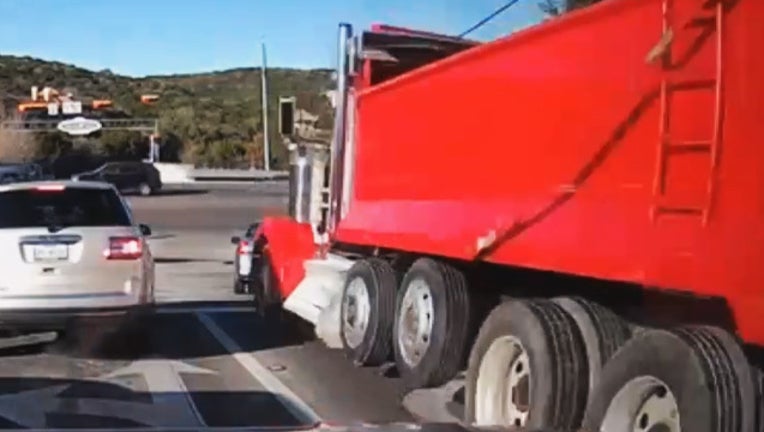 article
One of the crash victims from the 2222 gravel truck crash captured on camera has filed a lawsuit.  Delaney Nelson is suing both the trucking company that owned the truck and the driver of the gravel truck.
According to the lawsuit, "As a result of the collision, Ms. Nelson sustained permanent and life-altering injuries…"
The lawsuit names Mario Franco of Franco's Trucking and Codie Korn, the truck driver, as Defendants.  The lawsuit states that… "Korn is a convicted felon. He has previous felony convictions for aggravated battery and domestic battery in the presence of a child.  Defendant Korn also has prior convictions for Driving under the Influence, Illegal Consumption, and possession of drug paraphernalia along with 4 convictions for driving a motor vehicle without a driver's license."
Watch the crash captured on camera. (Video Credit: Glen Bandel)
The lawsuit goes on to say that Korn, "Failed to keep proper lookout, failed to maintain proper control of the vehicle he was operating, drove too fast for the conditions then existing, failed to reduce his speed, failed to make timely application of his brakes, failed to yield the right of way while turning left, and operated his vehicle in an unsafe and improper manner."
According to the lawsuit, Defendant Franco's Trucking, "negligently entrusted their vehicle to Defendant Korn."
On the morning of Feburary 26th, Glen Bandel's wife was driving down Jester Blvd. in west Austin with the family's new dash cam attached to the front windshield.
At the top of the hill, she saw a red gravel truck on the side of the road. Minutes later while waiting at the red light at Jester and 2222, she encounters the red truck again...and the dash cam was rolling as the truck crashed.
The Plaintiff, Ms. Nelson "demands a trial by jury."
Four people were taken to the hospital with injuries, including the truck driver.
Some citizens jumped down there and helped extricate Korn out of the vehicle and get him away from it before it caught fire," said APD Corporal Chad Martinka.
Update: Failed brakes may have caused fiery 2222 gravel truck wreck
Motorcyclist dead, several injured after two major wrecks on 2222