Video captures East Austin students involved in cafeteria brawl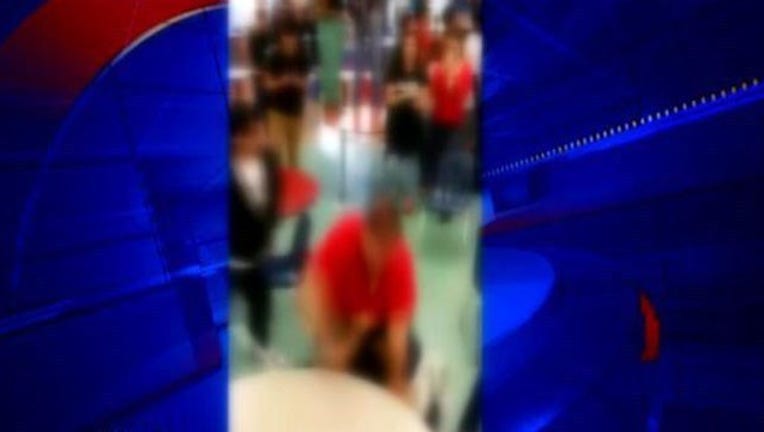 article
AUSTIN, Texas - Video of a brutal fight in an East Austin high school cafeteria was posted on Facebook Thursday afternoon.
"It was just crazy! There were chairs, tables, a lot of innocent bystanders got hurt," said Rachel Cervantes whose son attends classes at the school.
Police said one Eastside Memorial High School student was taken to the hospital after the fight, but was not seriously injured. Several parents were shocked when they saw the video on social media and recognized their own children.
"You should not have to see on Facebook that your child was in an assault," said Angelica Noyola who lives in the neighborhood.
The chaos continued for a minute and a half before other students stepped in to break it up. That has several parents concerned.
"There's no teachers, there's no APD officers, there's no supervision whatsoever," said Cervantes.
Austin ISD Police Chief Eric Mendez said there are still questions that need to be answered.
"There are policies and procedures in place on how to provide supervision. Obviously, there was a breakdown in that policy or procedure and at the time of the fight there was no supervision," said Mendez.
Police said school administrators were in a meeting while the school resource officer and security guard were working on another matter.
"That's an issue of protocol that we have to readdress to ensure there's coverage in the cafeteria," said Mendez.
Cervantes said fights at the high school have been an ongoing issue. In fact, she said her son was jumped by five students on Wednesday.
"He was pretty beat up and he was having trouble breathing. He got kicked and he hasn't been to school for two days because I'm afraid for his safety," said Cervantes.
Cervantes said she called the school the next day to warn them about the kids who attacked her son. She said they were the same kids involved in the cafeteria fight the next day, but Cervantes claims her call was never returned.
"We're crying out for help and we're not getting it," said Cervantes.
AISD police said they are doing what they can.
"We had extra officers on campus today and extra school administrators on campus today to alleviate any concerns of safety," said Mendez.
That's not enough to calm Cervantes' fears.
"I'm usually not afraid of anything, but I'm afraid of losing my child," said Cervantes.
Two students have been arrested since the fight. They have both been charged with aggravated assault.
Parents said there will be a meeting next week at the school regarding Thursday's incident.