War cry: Trump opening acts raise eyebrows, pump up crowds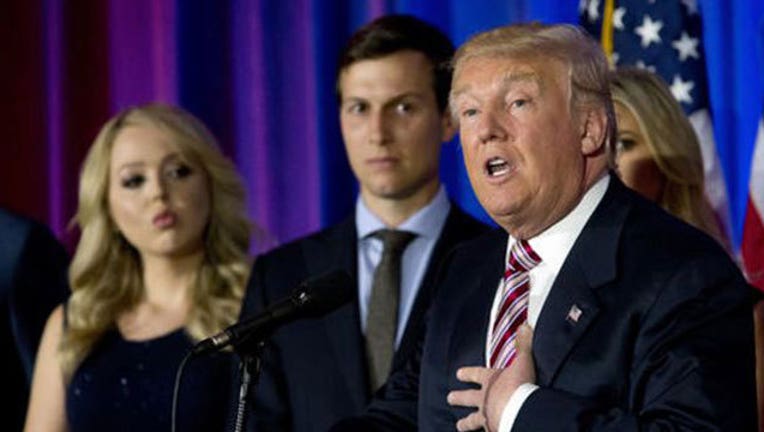 article
WASHINGTON (AP) — Conservative radio host and columnist Howie Carr, opening for Donald Trump at a presidential campaign rally in Maine, brought up Hillary Clinton and her potential running mate, Sen. Elizabeth Warren.
"You know Elizabeth Warren, right?" Carr asked the crowd.
He then put his hand up to his mouth and mimicked a stereotypical Native American war cry — the same call that Trump supporters sometimes let fly when Trump mentions Warren at his events. That's because Trump regularly refers to Warren as "Pocahontas," for her claim that she is part Native American. The nickname and other Trump comments have been derided by some as offensive.
But Carr, in a column Thursday in the Boston Herald, said that Trump advised him off-stage: "'Whatever you do, don't apologize.'"
"'You never hear me apologize, do you?'" Trump added, according to Carr. "That's what killed Jimmy the Greek way back. Remember? He was doing OK 'til he said he was sorry."
It was a reference to Jimmy "The Greek" Snyder, a sports commentator who was fired from CBS after saying that black athletes were "bred" to be better athletes than whites when they were slaves.
Carr's account is the latest example of controversy stirred by provocative Trump surrogates who go even further in their opening acts than the typically unguarded candidate. The goal is to rile up Trump's rowdy crowds at the events, which often are compared to rock concerts.
Trump's team typically invites local elected officials who have endorsed him to speak, and familiar faces often join the tour. South Carolina pastor Mark Burns delivers his sermon-like speeches in a full-throated shout. Senior aide Stephen Miller typically delivers the final speech before Trump takes the stage, offering a pointed take-down of Clinton.
But often, in their efforts to pump up the crowd, the speakers make inaccurate and eyebrow-raising remarks that, at least so far, appear to have drawn little pushback from the campaign.
"We are incredibly grateful for (Carr's) support, but as you know, he does not speak on behalf of the campaign," Trump spokeswoman Hope Hicks said via email.
Speaking at an event in Hickory, North Carolina, in March, Burns, the president of the Christian NOW Television Network, appeared to question the faith of Bernie Sanders, then Clinton's rival for the Democratic nomination.
"And Bernie Sanders, who doesn't believe in God, how in the world are we gonna let Bernie, I mean, really!" he said of the Vermont senator, who is Jewish.
"Listen, Bernie gotta get saved. He gotta meet Jesus, I don't know. He gotta, he gotta have a comin' to Jesus meeting," he said.
At a rally the next month in Tampa, Burns labeled Clinton a "racist," going further than Trump has himself.
"The thing that I truly despise about Hillary Clinton: She tries to call Donald Trump the racist. She's the racist. She's the racist," he said, accusing Clinton of trying to divide people.
At a news conference later that month, Trump said he was unaware of what Burns had said about Sanders.
"I didn't hear this. When did he say this?" he asked. "I didn't hear anything about it. ... Let me find out about it."
Burns, who has made numerous appearances on Trump's behalf since then, said he never heard anything about the comment from the campaign.
"The thing that I've said, I've tried to be as factual as possible and really to say things that millions are saying privately but others don't say publicly," he said. "Usually I just echo the heartbeat of the people I speak to on a daily basis."
But Burns said the reaction to the Sanders comment was a wake-up call that the things he said on stage had consequences.
"To be honest that was the first time I really became conscious that the media was listening to what I said," he said, adding that the comment wasn't intended as a criticism of Judaism and "had nothing to do with his faith or religion or conversion to Christianity."
"The last thing that I would have ever done intentionally was to insult the Jewish faith," he said.
Carr, for his part, defended his comment. "As far as I know she's a white person until proven otherwise. And I'm a white person. So how could it be racist?" he said on his radio show.
Carr is also selling a "FAUXCAHONTAS Elizabeth Warren Graphic Tee" via his website. "Complete with bedraggled war bonnet - and high cheekbones. When you're wearing this shirt you won't need smoke signals to tell everyone that you've figured out this is one squaw who speaks with a forked tongue," reads the description. "Don't wait many moons, order today, before buffalo disappear from the prairie!"
He did not immediately respond to a request for comment via the site.
___
What political news is the world searching for on Google and talking about on Twitter? Find out via AP's Election Buzz interactive. http://elections.ap.org/buzz