Watch: Ring's alien sighting video contest brings hilarious submissions
It looks like Ring will need to continue the search for alien visitors on Earth after their Million Dollar Search for Extraterrestrials contest ended last week with no further proof that aliens have visited our planet – so far. 
There are still a few video submissions being reviewed before we can conclusively say aliens have not walked among us. 
In the meantime, Ring did share that some people decided to get creative, instead sending in some hilarious out-of-this-world videos of their "alien" sightings around their neighborhoods.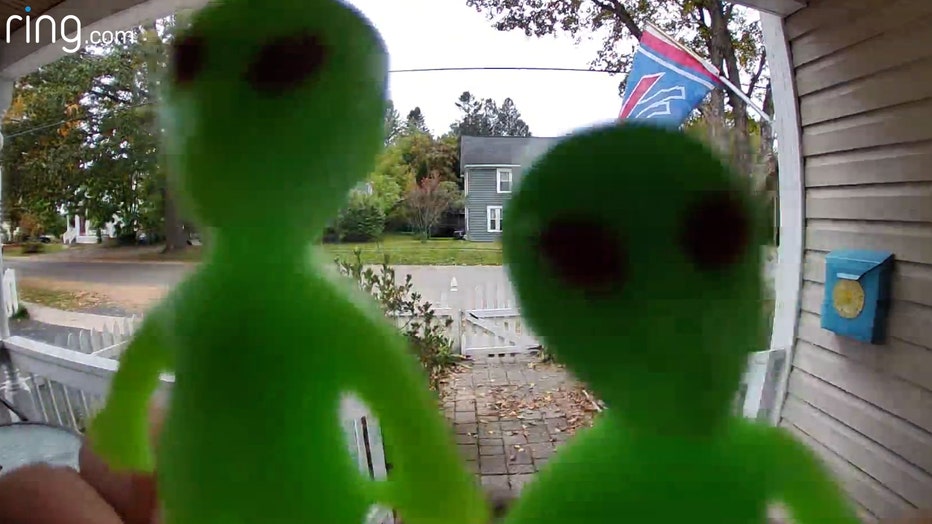 Still image from Ring video of two "aliens" visiting someone's front porch. (Ring)
RELATED: Ring could give you $1 million for video of aliens this Halloween 
There were costumes, dramatic encounters and even a pantsless figurine captured on people's front porches, and just in time for Halloween – imagine that. 
If someone actually captured a real alien on their Ring camera, they would qualify for the $1 million grand prize which will be paid as a $50,000 annuity over 20 years. 
Anyone who submitted a video that was just for fun will be entered for a chance to win one of five $500 Amazon gift cards, according to the official contest rules. 
Any winners will be notified via email next week. 
This story was reported from Los Angeles.