Wisconsin's Walker looks to Iowa to regain momentum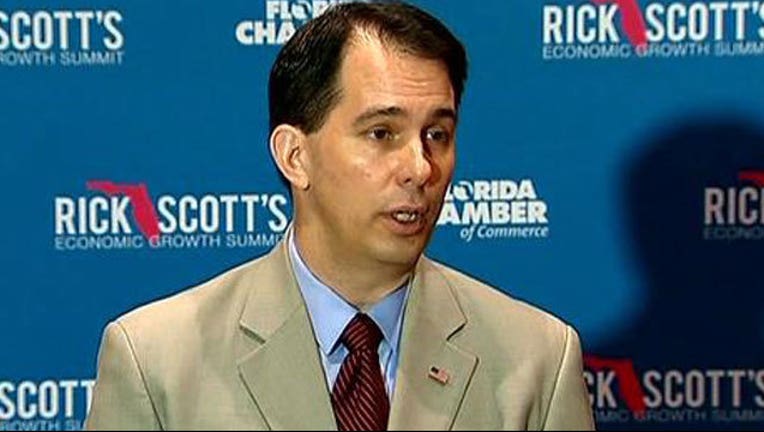 article
ONAWA, Iowa (AP) — With his sleeves rolled up, Scott Walker wowed Iowa Republicans in January at one of the first events of the 2016 campaign — a moment that shot the Wisconsin governor into the top-tier of GOP candidates for president.
In the months since, Walker has slowly fallen back into the pack of more than a dozen seeking the GOP nomination.
While he's no different from any of the other Republicans struggling for attention amid the spotlight focused on billionaire businessman Donald Trump, Walker has also endured a series of setbacks of his own making since launching his campaign in mid-July.
He's had to backtrack and clarify his positions on immigration and terrorism, reassure jittery donors after a lackluster performance in the first GOP debate and reshape his campaign to try and rekindle the spark he showed in the middle of the winter in Iowa.
That's where Walker was last week, retail politicking at diners and dives. Shaking hands with fewer than a dozen people at Miller's Kitchen in Onawa on Wednesday, he said such stops in all 99 Iowa counties — a classic campaign stunt that's paid off for candidates in the past — is the key to getting back on top.
"This time eight years ago you had Hillary Clinton way ahead of Barack Obama. You had Rudy Giuliani and Fred Thompson way ahead of McCain and Romney," Walker said. "A lot changes between now and the caucuses. I think the most important thing we can do is get out and tell our story."
During a seven-stop, two-day visit to rural western Iowa last week, in between major speeches to unveil his health care and foreign policy plans, Walker pitched himself as the only Republican who has fought and won without compromising his core conservative principles.
He pointed to his battles with the state employee unions in Wisconsin, winning a 2012 recall election and signing a bevy of Republican priorities including defunding Planned Parenthood, requiring photo identification to vote and legalizing the carrying of concealed weapons.
He also outlined his foreign policy goals, criticized President Barack Obama and Democratic front-runner Hillary Rodham Clinton as "leading from behind" and called for a state visit with the Chinese president to be canceled.
Yet in the past 10 days, Walker also changed his stance three times on whether he, like Trump, favored doing away with the constitutional right to citizenship granted to people born in the United States. Walker finally said he had no position on the issue and he would not seek repeal of the 14th Amendment that provides that right.
During his campaigning, he has drawn the ire of Wisconsin state lawmakers who chafed at Walker, saying they weren't on board with his 2011 push to weaken the state's public employee unions.
In New Hampshire, Walker also said recently there were only a "handful" of moderate followers of Islam — a religion followed by more than a billion people worldwide. His campaign spokeswoman later attempted to dampen criticism of his comment, issuing a statement that Walker knows that the majority of Muslims "want to live in peace."
While they are merely the latest of a number of such back-and-forths for Walker since January, none came up as voters peppered him with questions during his two-day rural Iowa tour.
Iowa state Rep. Brian Best, who backs Walker and came out to see him during a campaign stop in Hamlin, said the candidate is doing a good job building a base.
"A lot of numbers are going to change between now and February," Best said. "... He just needs to work hard and do the retail like he's doing. Get the message out."
In a Sunday interview on NBC's "Meet The Press," Walker raised a new issue, saying the idea of a wall on this country's Northern border merits review.
The super PAC backing Walker, run by his former campaign managers, plans to start airing television ads in Iowa after Labor Day. And Walker has committed to spending a lot of time in the state where he lived from ages 3 to 10, promising to visit all 99 counties before the caucuses on Feb. 1.
"People want to know what makes me unique," Walker said in Onawa. "The easiest way to summarize it is 'I fight, I win, I get results and I do it without compromising commonsense conservative principles.' I think that's what people desperately want."
The Iowans who came out to see Walker said they liked what they heard, but many said it was too early to commit to any one candidate — especially given all the choices.
"I'm very uncommitted at this point," said Gail Friend, 71, of Battle Creek who came to nearby Denison to hear Walker talk. Friend said she didn't have a favorite candidate before she heard Walker, and she left thinking he's somewhere in the middle of the pack.
Wilma Wagner, a 78-year-old worker at Penny's Diner in Missouri Valley, held Walker's hand across the counter as the two talked about her family members who live in Wisconsin.
Wagner, who also posed for pictures with her arm around Walker, praised him as being "really nice," but was not yet ready to commit to supporting him for president.
"It's too early to tell," she said.
___
Follow Scott Bauer on Twitter at https://twitter.com/sbauerAP