Woman accuses North Texas man of fake job interview ploy, hiding camera in hotel room
SOUTHLAKE, Texas - Police are investigating a woman's claim that she was secretly recorded by a hidden camera in a Southlake hotel room.
She claims the room was booked for her as part of a job interview by what she says turned out to be a man posing as a CEO of a fictitious company.
The woman told police she found the hidden camera in her room at the Hilton Dallas/Southlake Town Square and also claims while she was in the room, two men entered.
The filed a lawsuit last week against the alleged fake employer and also the hotel, claiming inadequate safety procedures.
The young woman says the job posting was for a significant six-figure salary with plenty of paid time off. 
Now, she claims the job was not real, and the posting may have been a plot to secretly record her — or even something worse.
"So that was my client's initial reaction is she was worried that she was about to get abducted and trafficked," said attorney Anna Greenberg.
In the Oregon woman's lawsuit, she claims she responded to a job posting for an executive assistant to the CEO of a consulting firm in Southlake.
"She was a young, recent graduate from college just responding to a job posting online that looked completely legitimate," Greenberg said about her client. "I mean she looked at the website for the company. The website was elaborate."
The lawsuit claims she had virtual and in-person interviews in November of last year. She had another in February.
"When she talked to this CEO over Zoom, and he said, 'Let me fly you out to Dallas for an in-person interview.' I think she was completely justified and reasonable in relying on all of the representations that he made," Greenberg said.
The lawsuit alleges the CEO drove her to the Hilton Dallas/ Southlake Town Square Hotel after picking her up from the airport. He provided a room key, so she did not have to check in. 
She went to the room alone. Later, she undressed and began to get ready to meet the CEO for dinner. That's when she claims two large men opened her door and walked in. 
FOX 4 spoke with the woman who asked not to show her face.
"Super shocked to see me in there and just said, 'Oh, we thought this room was vacant' and just immediately left," she recalled. "Just had this gut feeling that something wasn't right. And I had found a camera that was embedded in a clock on my nightstand."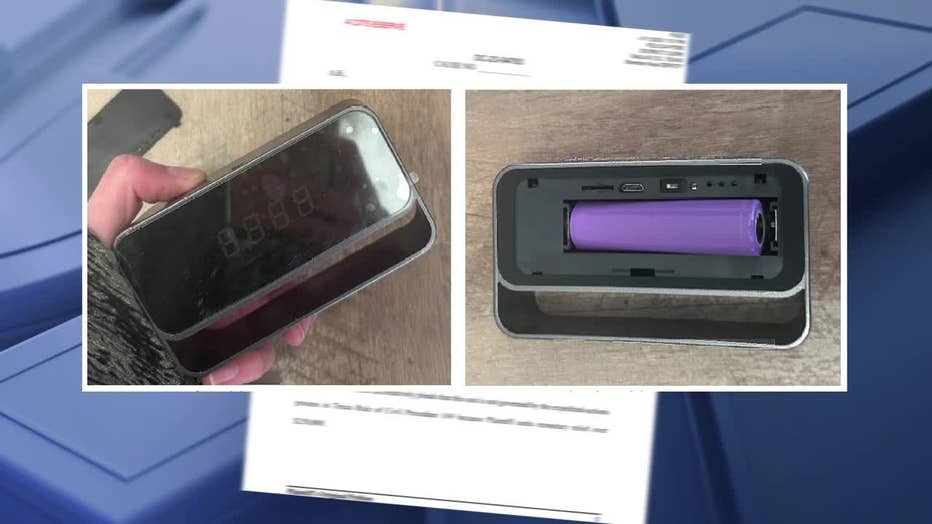 According to the lawsuit, "she immediately unplugged the device, flipped it over, and discovered an SD card in the back of the device." A wireless internet router was also found that could have allowed for live streaming.
"Even just a sense that someone was searching me without my consent is terrifying to think about," the woman said.
According to the lawsuit, "within one minute of unplugging the hidden camera device, [she] received a phone call from [the CEO] asking her if everything was alright. Not wanting to alert him…[she] told [him] that everything was fine."
"It obviously was very traumatizing," the woman said.
According to the lawsuit, the man claiming to be a CEO was using a fake name and used that name to book the room. 
FOX 4 is choosing not to reveal his identity because he has not been charged with a crime at this time. However, Southlake police are investigating. 
The woman flew home that night and claims she has never heard from the man since.
"We filed the lawsuit, and we're hoping to get to the bottom of that," she said.
The woman is suing the hotel, its management and investment companies and the man claiming to be a CEO. 
The hotel general manager told FOX 4 they have no comment.