Zebra mussels spark water restrictions at Canyon Lake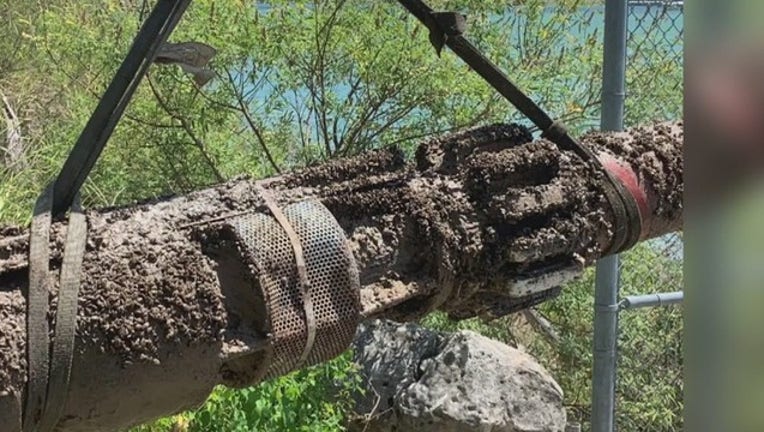 article
CANYON LAKE, Texas (FOX 7 Austin) - The zebra mussel infestation is causing more problems across Central Texas. 
At Canyon Lake, water restrictions are now in place because they have clogged the water intake pipes. 
"There really isn't a way to get rid of them, it's like fire ants, you just have to figure out how to deal with them," Canyon Lake Water Service Company customer service manager Larry Jackson said. "Kind of always knew it was a matter of time before they came here to the lake."
According to Jackson, where exactly these pests are settling down in the lake is causing problems. 
"The zebra mussels had actually gone into the pipes itself and starting impacting the pumps," said Jackson.
The notorious mussels are sparking water restrictions in the area. 
"Restrict their water use to indoor use only because as most people know 60 to 70 percent of all water this time of the year is being put on lawns and landscape irrigation," said Jackson. 
The CLWSC mostly services water to the Canyon Lake area but also provides water to parts of Travis, Hays, and Blanco counties.
This isn't the first time zebra mussels have impacted a water supply in Central Texas. Last fall Round Rock dealt with a similar problem and Jackson says the problem isn't near that level with their plants. 
"The water quality is not impacted at all," Jackson said. "Zebra mussels, while they aren't from here, they are a natural organism the water treatment process will eliminate those types of things."
Park ranger Samuel Price said they too are impacted by these water restrictions caused by the zebra mussels. 
"In my 10-and-a-half years I've been here I can't remember there being water restrictions except for a water line burst," said Price. 
He said the first reports of the invasive species at Canyon Lake were about two years ago, and their population has since grown significantly. 
"You can sometimes turn over a rock and find zebra mussels at most areas of the lake," said Price.
The CLWSC is urging their water customers to conserve while they work on cleaning out their system.
So far, there is not an effective way to deal with zebra mussels. It will take a few days to go through each of their intake pipes at the impacted plant.
The restrictions are expected to be lifted by the end of the week.