Adolis García, Max Scherzer out for remainder of World Series
PHOENIX, Ariz. - The Texas Rangers will be without All-Star right fielder Adolis García and starting pitcher Max Scherzer for the rest of the World Series.
Rangers manager Bruce Bochy said García has a moderate strain of his left oblique.
"That's never a good thing, to be honest," Bochy said during a pre-game news conference on Tuesday.
The ALCS MVP was removed during the eighth inning of Game 3 on Monday night.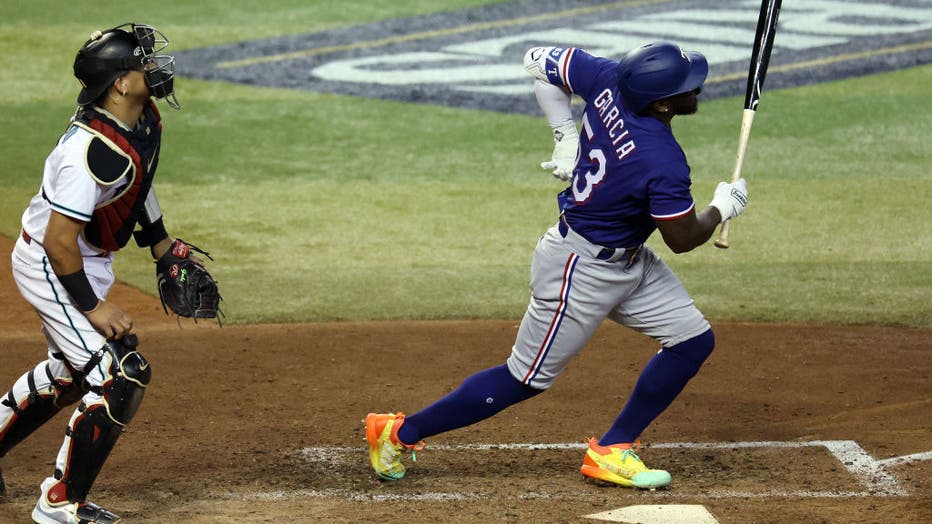 PHOENIX, ARIZONA - OCTOBER 30: Adolis García #53 of the Texas Rangers reaches towards his back after flying out in the eighth inning against the Arizona Diamondbacks during Game Three of the World Series at Chase Field on October 30, 2023 in Phoenix,
García grabbed his left side and was in visible pain after flying out to end the inning.
Bochy said García tried to take swings on Tuesday and is receiving treatment for the injury.
Rangers General Manager Chris Young said it became clear the injury was not something that would get better in the next 5 to 7 days.
"Adolis did everything he could today. He came in, was the first guy in today. He got as much treatment as possible. He went down to the cage and gave it a go, and it was very clear he was in pain," said Young. 
Pitcher Max Scherzer was pulled before the fourth inning of Game 3 with back spasms.
Young said the pitcher's back did not improve overnight.
"Max came in today, his back is in the same spot it was last night. He received a full day's treatment and there was no progress. Our medical team has extreme concern in terms of his ability to recover in the next few days that would allow him to pitch in this series," Young said.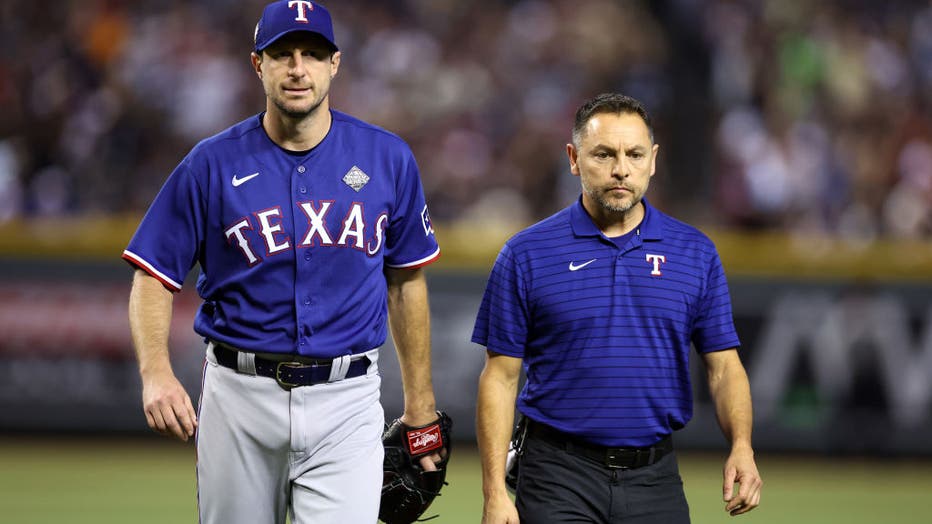 PHOENIX, ARIZONA - OCTOBER 30: Max Scherzer #31 of the Texas Rangers walks off the field after leaving the game due to injury in the fourth inning against the Arizona Diamondbacks during Game Three of the World Series at Chase Field on October 30, 20
Just after 6 p.m., the team announced that García would be replaced by INF/OF Ezequiel Duran on the roster.
Scherzer was replaced by lefty reliever Brock Burke.
"If this were the regular season they'd both be [placed on the Injured List] and we're just at a point in time where we don't have the time to wait these things out," Young said.
García has had a historic postseason, breaking the MLB record for RBI in a single playoffs.
He also hit a walk-off home run in Game 1 of the World Series and threw out the D-backs' Christian Walker as he tried to score in a pivotal moment in Game 3.
The Rangers are starting Travis Jankowski in right field in place of García in Game 4.
Scherzer, a trade deadline acquisition, struggled through 3 starts for Texas in the playoffs after battling back from injury to return for the ALCS against Houston.
Scherzer's slot in the rotation would be up in a potential Game 7, if it were necessary.