Astros return to Houston for 1st game since Hurricane Harvey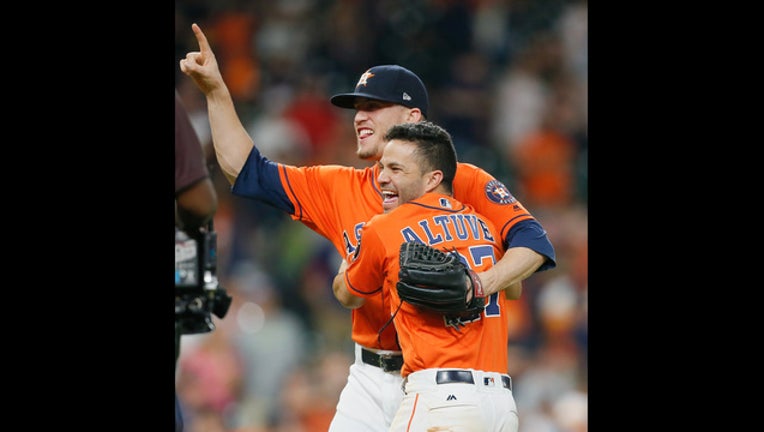 article
HOUSTON (AP) — Baseball returned to Houston on Saturday with the Astros giving the flood-ravaged city a few hours of entertainment at the end of a terrible and trying week.
The Astros beat the New York Mets 12-8 in a doubleheader opener, the first professional sporting event in the city since Hurricane Harvey.
"After the week that we've gone through people ... need a sign that tomorrow will be better than today," Houston mayor Sylvester Turner said. "No better way to do that than for the Astros to play ball. This is a city that regardless of our challenges we play ball."
The crowd of 30,319 included victims of the storm who were staying yards away at the George R. Brown Convention Center, which is the city's biggest shelter and is housing more than 9,000 people. The Astros provided 5,000 tickets to each game for the mayor's office to distribute at the convention center.
"A number of these people that are here are in our shelters," Turner said. "They need something to cheer for. A few years ago people counted the Astros out, now they're contenders for the World Series. A few days ago people counted the city of Houston out. Well no better symbol than the Astros (and) that's why we're playing ball today."
The Astros wore patches on the upper left side of their jerseys with the team logo and the word "STRONG" in block letters as a tribute to those affected by the storm. As George Springer approached home plate after hitting a two-run homer in the second inning, he pounded the patch three times with his right fist and pointed to the fans.
"I hope it provides a smile or two," Astros manager A.J. Hinch said. "I hope it provides a break from what's going through these people's minds. To keep it in perspective we're a baseball team. We're going to do our part. We're going to try to help return to normalcy and a normal weekend in September has a lot of Astros baseball involved."
The team honored first responders in a pre-game ceremony and played a video with dozens of tweets documenting the heroic work of people across the area in the wake of the storm. First responders were also given tickets to the game and two Coast Guard members were stopped from getting to their seats after entering the ballpark as about a dozen fans lined up to shake their hands and thank them for their work.
Season-ticket holders Susan Welbes and her daughter Sarah stood in the stands and held signs that read "Houston Strong." They came out of the storm OK, but walked around the ballpark before the game making sure all the ushers and concession workers they know were OK, too.
"I think today is the first day in a week that we've felt normal," Susan said. "It's just been so surreal watching what has been happening to our city for the last week and we're just so glad (to be here). This is our happy place ... we can watch baseball and we can forget about everything that's been going on just a little bit."
While the Astros played on Saturday, Houston Rockets star James Harden spent time at the convention center with Turner and announced that he's donating $1 million to hurricane relief. He caused a stir as he walked through the shelter hugging babies and taking selfie after selfie with evacuees.
"They were hit very hard," Harden said. "So for me to spend time, take pictures and make them smile and let them feel me and feel my energy. That means more than anything. So I'm here and just to see these people smiling when they just got hit hard, it means the world."
One of the people Harden met on Saturday was 14-year-old Ja-Miya Riles, who couldn't stop grinning after getting a selfie with the Rockets star.
"I love basketball. Basketball is just everything. So I was really excited about it," she said.
Ja-Miya, her grandmother Rachial Riles and 11-month old sister Kyler Riles arrived at the convention center on Saturday after water in the walls of their apartment created mold which landed both girls in the hospital for respiratory problems. The doctors told Rachial they couldn't go back to the apartment or they'd get sick again, so she brought the family to the convention center to find help.
"We didn't have anywhere else to go," Rachial said. "I'm here trying to find a place to stay."
Rachial was tending to Kyler and didn't see Ja-Miya with Harden, but beamed when she learned her granddaughter got to meet one of her favorite players.
"It's really just a mood booster after what happened and everything that's going on with Hurricane Harvey," Ja-Miya said.
___
More AP baseball coverage: https://apnews.com/tag/MLBbaseball