Carson Briere, son of Flyers' Danny Briere, kicked off Mercyhurst hockey team as he faces criminal charges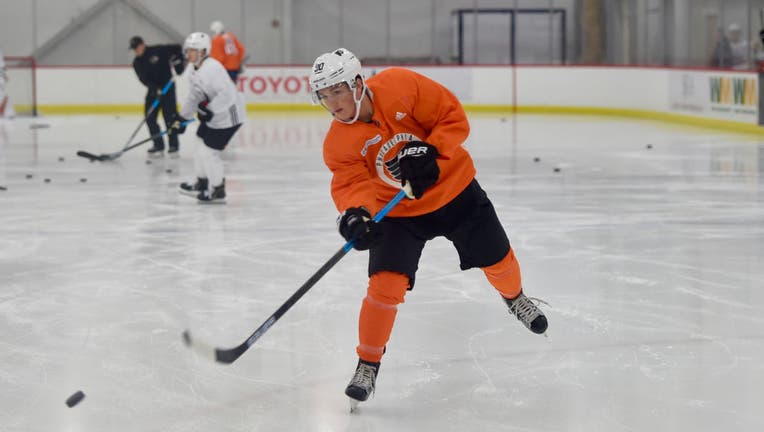 article
Carson Briere, the son of interim Philadelphia Flyers GM Danny Briere, has been dismissed from Mercyhurst University's men's hockey team as he faces criminal charges for pushing a wheelchair down a flight of stairs last month. 
The school announced the move on Monday, saying "Mercyhurst cannot comment further on this matter."
Briere appeared to push an unoccupied wheelchair down a staircase at a bar in Erie County, Pennsylvania, and because of that action, he's facing charges of criminal mischief, criminal conspiracy to commit mischief and disorderly conduct. All charges are misdemeanor. 
Patrick Carrozzi, a member of the university's lacrosse team is facing the three same charges. They are both scheduled for a court date on May 22. 
Video surveillance appeared on social media in March showing what appeared to be Briere and Carrozzi talking at the top of the staircase before Briere was seen rolling around in the wheelchair. He would late push it down the stairs. 
CARSON BRIERE, SON OF INTERIM NHL GM, FACES CHARGES OVER WHEELCHAIR PUSH
Sydney Benes is the owner of the wheelchair and she filed a complaint stating that her property was damaged from the fall down the stairs. The wheelchair's left brake handle was damaged, as was the right arm rest's plastic molding, while a rear handle was bent and the wheels dragged when moving forward. 
The wheelchair cost Benes $2,000 when she bought it a year ago. 
Police said the men's actions posed a possible threat to anyone trying to come up the stairs, while also creating a hazardous condition by blocking the staircase. 
Briere later apologized for his actions. 
SHARKS USE TWITTER ACCOUNT TO SHARE LGBTQIA+ INFO, INCLUDING 'GENDER DIVERSITY'
"I am deeply sorry for my behavior on Saturday. There is no excuse for my actions, and I will do whatever I can to make up for this serious lack of judgment," he said.
His father, who was named interim Flyers GM on March 10, also issued a statement on the matter. 
CLICK HERE TO GET THE FOX NEWS APP
"I was shocked to see Carson's actions in the video that was shared on social media yesterday," he said at the time. "They are inexcusable and run completely counter to our family's values of treating people with respect. Carson is very sorry and accepts full responsibility for his behavior."
Fox News' Ryan Gaydos and The Associated Press contributed to this report. Read more of this story from FOX News.