Rangers rookie Evan Carter is the breakout star of the 2023 postseason
HOUSTON - Watching Evan Carter work out with his Texas Rangers teammates at first you might confuse him for the bat boy.
If he looks young, it's because he is. 
Carter just turned 21 in August and was barely old enough to legally drink the champagne the Rangers drank after the playoff clinching wins against Tampa and Baltimore.
He's only been in the big leagues 5 weeks, but he plays like a 10-year veteran.
Carter is hitting .389 in the postseason with an On Base Percentage of .560.
"I think that baseball has a funny way of humbling anybody and everybody, and it always will so that's always going to be chasing you," Carter said. "Whenever that does show up I've just gotta stay confident and have fun and keep doing what I'm doing. That's all that really matters you can't control when that will catch up to you, but you know, hold it off for as long as possible and just keep having fun."
Carter's Rangers teammates have had some fun joking with the rookie too, calling him the "savior" for the work he did in the regular season to help them reach the playoffs.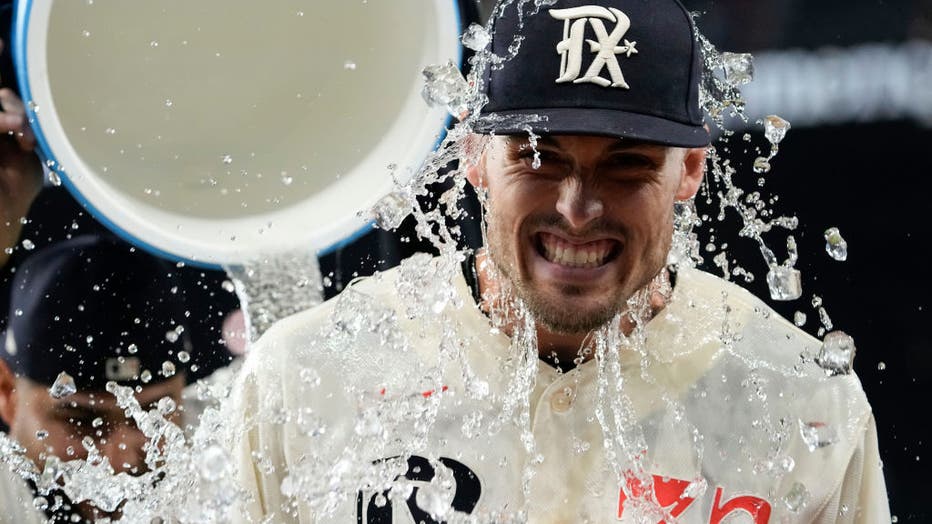 ARLINGTON, TEXAS - SEPTEMBER 22: Evan Carter #32 of the Texas Rangers is doused with water after defeating the Seattle Mariners at Globe Life Field on September 22, 2023 in Arlington, Texas. (Photo by Sam Hodde/Getty Images)
It can't be as easy as he makes it look, can it?
[REPORTER: "What is the biggest difference between major league pitching and minor league pitching?"]
"In the minor leagues, sometimes you get the starter out, and it's like, alright, we're going to get some relief in the bullpen. You know, we want to get the starter out of the game and now it's like, you get the starter out of the game, and it's somebody just as good as if not better coming in. There's no real let up, I guess," Carter said.
If the difference between pitching in the minors and major leagues is significant, then surely too is the intensity level once you are playing October baseball. Even more so in an ALCS featuring these Lone Star rivals.
Carter says he's felt the intensity ramp up on the journey through the playoffs.
"The game the other night was awesome. It's the coolest game I've ever been a part of, and I know it's only going to get better the further that we go so that's exciting," Carter said.
Exciting for sure, but this 21-year-old is able to stay grounded.
The biggest reason why: the young lady who has been by his side since middle school.
Carter got married to his wife, Kaylan, in December. 
"She's always there for me, good and bad. Gosh, she's the foundation of our relationship, holding it all together, so I'm really thankful for her," Carter said.