Rangers-Astros Game 5 | Altuve's 9th inning homer breaks Texas' hearts, Astros win 5-4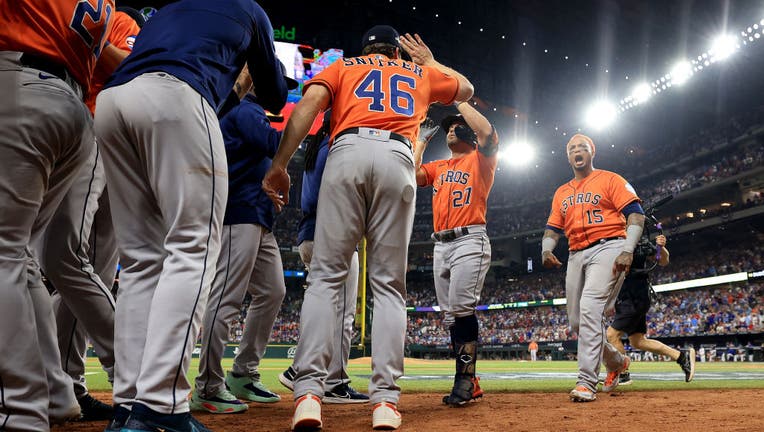 article
ARLINGTON, Texas - Jose Altuve and the Houston Astros broke the Texas Rangers' hearts on Friday night. 
Altuve's 3-run homer off of Jose LeClerc in the 9th flipped an intense game on its head, giving the Astros a 5-4 lead. 
Ryan Pressley then closed it out.
The series now heads to Houston with the Astros leading 3-2.
The Rangers turned to starter Jordan Montgomery in Game 5.
In the first inning, he gave up a solo home run to Astros third baseman Alex Bregman.
In the bottom of the 5th, Nathaniel Lowe drove a ball out of the ballpark going the opposite way to tie the game at 1.
After a sharp single off the bat of Jose Abreu put the Astros up 2-1 in the top of the 6th, Adolis Garcia hit a three-run homer to put the Rangers up 4-2 in the bottom of the inning.
Garcia took his time watching the ball leave the park and spiked his bat while walking down the first baseline.
Benches cleared in the bottom of the 8th when Garcia was hit by Bryan Abreu during his next at-bat.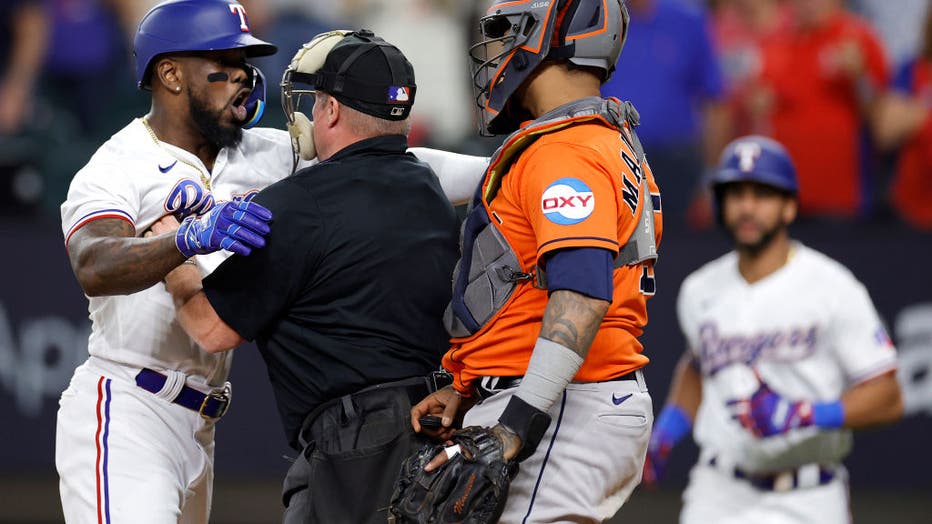 ARLINGTON, TEXAS - OCTOBER 20: Adolis Garcia #53 of the Texas Rangers argues with Martin Maldonado #15 of the Houston Astros after being hit by a pitch by Bryan Abreu #52 of the Houston Astros during the eighth inning in Game Five of the American Lea
Garcia immediately got in the face of Martin Maldonado, shaking his finger in the catcher's face.
Abreu, Garcia and Astros manager Dusty Baker were ejected.
After a single and a walk by Rangers closer Jose LeClerc Jose Altuve hit a three-run homer in the top of the 9th to put the Astros back up 5-4.
Flower Mound Marcus alum Ryan Pressly closed out the ninth to lock up the win for Houston.
Game 6 will be Sunday night in Houston.
Nathan Eovaldi will get the ball for the Rangers. Houston will likely send Framber Valdez to the mound.
Texas won Game 1 and 2 in Houston.
In Game 2, the Rangers scored 5 runs in 2.2 innings against Valdez.
Eovaldi gave up 3 runs in 6 innings.
Live Updates
Starting Pitchers ALCS Game 5
Astros: Justin Verlander (13-8, 3.22 ERA)
Rangers: Jordan Montgomery (10-11, 3.20 ERA)
Texas Rangers Lineup
Marcus Semien, 2B
Corey Seager, SS
Evan Carter, LF
Adolis Garcia, RF
Leody Tavares, CF
Josh Jung, 3B
Nathaniel Lowe, 1B
Mitch Garver, DH
Jonah Heim, C
Houston Astros Lineup
Jose Altuve, 2B
Mauricio Dubon, CF
Alex Bregman, 3B
Yordan Alvarez, DH
Jose Abreu, 1B
Kyle Tucker, RF
Chas McCormick, LF
Jeremy Pena, SS
Martin Maldonado, C
What channel is the Rangers game on tonight?
Games 5 of the ALCS will air on FS1.
You can also stream the games for free on the FOX Sports app.
A TV provider is required to watch the games.