Reports: Ezekiel Elliott involved in weekend car accident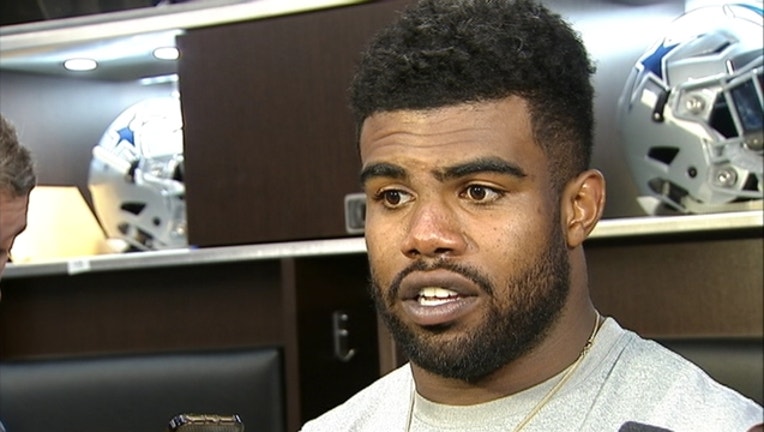 article
DALLAS - Cowboys running back Ezekiel Elliott was in a car accident late Sunday, according to ESPN.
Sources told ESPN that Elliott did not have any significant injuries from the accident, where he was a passenger in the vehicle. But team officials opted to keep him out of this week's OTAs. But TMZ reported Elliott hit his head in the accident.
TMZ said the car was rear-ended "pretty bad" after Elliott attended a party at Uptown Dallas' Clutch Bar Sunday night. Further details about exactly when and where the wreck occurred aren't known because a police report has not surfaced.
Cowboys Head Coach Jason Garrett said he wasn't worried about Elliott's behavior off the field despite the accident.
"When he came in on Monday, he just had some body stiffness and some neck stiffness," Garrett said Wednesday. "He's done the dynamic warm up the last couple of days, but we kept him out of the practice portion of it."
Elliott's mother, Dawn, tweeted "He can't fart without it being news. However, one can't help it if another car rear ends them."
This crash is one of several off the field off-the-field incidents since Elliott joined the Cowboys last spring.
It's the second wreck Elliott has been involved in this year. He was driving to the Cowboys training facility in Frisco when he was involved in a minor accident the week of the playoff game vs Green Bay.
The NFL is still investigating domestic violence allegations against Elliott in Ohio from last summer. Prosecutors declined to file charges, but the league could still sanction the running back.
In March, there was more unwanted attention after he exposed a woman's chest at St. Patrick's Day festivities on Greenville Avenue in Dallas.
Some fans said they cringed hearing their star player was involved in another incident during a night on the town before team practices. But they also realize Elliott is human and are confident he'll bounce back.
"He should be focusing on training camp, getting ready for the season," said fan Marcos Juarez. "But at the same time, he's a young guy, he's going to go out there and he's going to live his life."
When asked about Elliott, Jerry Jones's response was "just goes to show we need to buckle our seat belt, but I think he's going to be fine."