Texas coach Charlie Strong making promises, can he deliver?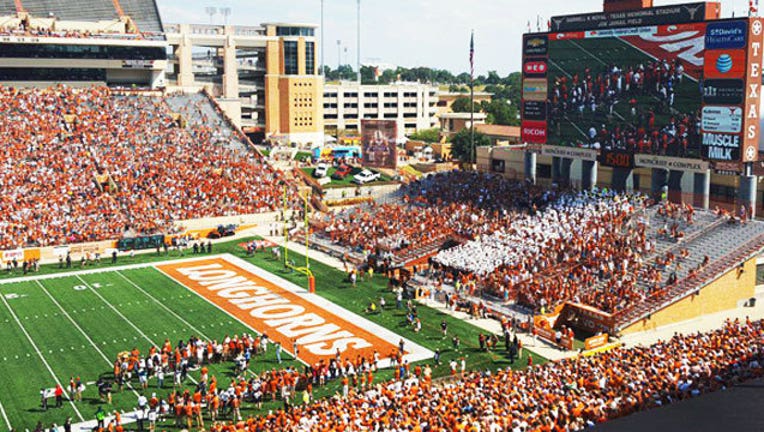 article
AUSTIN, Texas (AP) — Shortly after 11 a.m. on Nov. 17, 2014, Texas coach Charlie Strong made a promise: five-loss seasons "would never happen again" in the Longhorns program.
Less than a year later and with his team struggling at 1-4, Strong returned to the same podium at his weekly news conference and made yet another pledge: "This is the week that we get this thing going."
Texas fans are wondering if any of this is going to come true.
Strong's pledge about five losses seemed reasonable at the time. Texas had won three in a row to become bowl eligible in his first season and seemed to be rising.
Texas is just 1-6 since then. Fans are grumbling, Texas players are taking locker room grievances public and chirping at each other on Twitter and it's an open question around college football on whether Strong could be fired after this season — or sooner.
The Longhorns haven't even played No. 10 Oklahoma yet. That comes come Saturday, when the Sooners (4-0, 1-0 Big 12) are heavily favored to hand Strong that fifth loss just halfway through the season.
"It does look gloomy," Strong said Monday. "It's funny. I guess people think I'm dying. ... I say to people all the time, 'I'm OK.'"
It's hard to find anyone in Austin who is laughing.
Strong is 7-11 in his first 18 games. Four of his last six losses have been by 20 or more points. The latest was last week's 50-7 pasting at the hands of No. 2 TCU when the Horned Frogs not only looked better coached, but more talented than the team that has long been one of the big boys in the Big 12.
TCU coach Gary Patterson even served up a zinger before the game. Asked about a TCU defense depleted by injuries and other problems, Patterson dismissed the concern.
"We've beaten better with less," Patterson said in a comment tweeted out by the Longhorn Network, Texas' in-house sports channel. The score was 30-0 by the end of the first quarter.
Strong is two years into a five-year guaranteed contract worth more than $5 million per year. He said he is not worried about whether he'll get to a third.
"Every day is a battle, so I don't (worry). I have no idea," Strong said. "Every day I come in knowing that it's my job to come in and make sure that this program is doing, is represented the right way and doing the right things and going to win football games and developing young men."
Strong still seems to have the support of his bosses. New school President Greg Fenves, who last month pushed out unpopular athletic director Steve Patterson, and interim athletic director Mike Perrin have publicly backed their head coach.
"As President Fenves indicated last month, he fully supports Coach Strong. This has not changed at all," a statement from Fenves' office said Monday.
Texas has played one of the toughest schedules in the country. All four losses have come against ranked opponents who have a combined record of 19-1. Two have been blowouts and two come following agonizing special teams gaffes.
Strong changed offensive coordinators and starting quarterbacks after a season-opening loss at Notre Dame. He appeared to find a spark with new starter Jerrod Heard, but the freshman's last two games have been average at best. Close losses to California and Oklahoma State were frustrating, but TCU's dominance showed a perilous talent gap that could take a few years to close.
Up in Oklahoma, Sooners coach Bob Stoops is trying to get his team to ignore the drama at Texas. The Sooners were heavily favored in 2013 only to get thumped 36-20.
"It's safe to say that will be brought up this week," Stoops said. "When I look at film, I still see a lot of really good-looking athletes and a lot of those players are in good spots."
Strong would be in a better spot if he can win.
"What happens through adversity (is) we're going to get stronger or we're going to fall apart," Strong said. "We're not going to fall apart."