Williams edges Kvitova for 1st US Open semifinal since 2010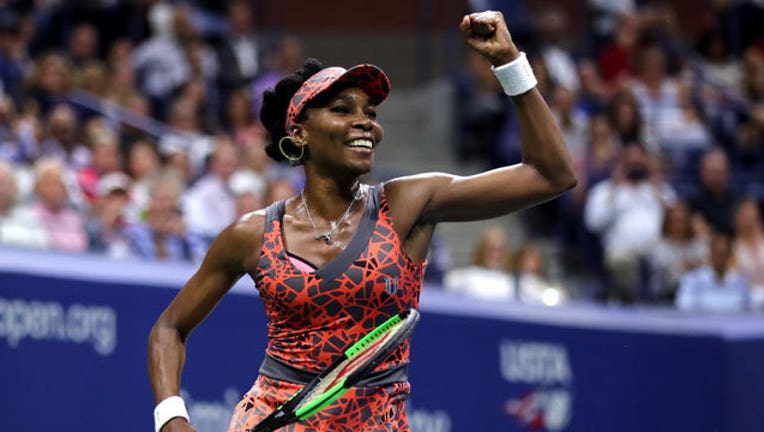 article
NEW YORK (AP) - When her work was done, her first trip to the U.S. Open semifinals since 2010 secured, if just barely, Venus Williams sat in her sideline chair and beamed .
Williams reached her third major semifinal of the season - something she last did 15 years ago - by edging two-time Wimbledon champion Petra Kvitova 6-3, 3-6, 7-6 (2) on Tuesday night to a soundtrack of thunderous partisan support under a closed roof at Arthur Ashe Stadium.
"Definitely felt like a special match. No easy moments, not easy to hold serve or break serve," Williams said. "This match meant a lot to me, obviously, playing at home and, of course, it being a major."
The 37-year-old Williams, who won titles at Flushing Meadows way back in 2000 and 2001, trailed 3-1 in the third set before digging out of the hole with a little help: Kvitova's eighth double-fault handed over the break that made it 3-all.
And Kvitova's ninth double-fault got Williams to match point in the tiebreaker.
"Sometimes you have opportunities, and sometimes you take them and you don't, but it's not like you get opportunity after opportunity after opportunity in these sorts of matches," Williams said. "You have to take the ones you have."
She will face unseeded Sloane Stephens on Thursday in the first all-American women's semifinal in New York since 2002. Stephens advanced earlier Tuesday with a 6-3, 3-6, 7-6 (4) victory over 16th-seeded Anastasija Sevastova of Latvia. It is Stephens' deepest run at any major since 2013 and the apex of a recovery from foot surgery in January.
There could be another U.S. vs. U.S. semifinal on the other side of the draw: 15th-seeded Madison Keys and 20th-seeded CoCo Vandeweghe play their quarterfinals Wednesday.
"It's been a great two weeks for American tennis. Seeing all the American players in the draw and all of them advancing so deep and competing so well," Williams said. "It's great to see this resurgence, and I hope it can continue."
Kvitova, seeded 13th, was hoping to prolong her comeback from a knife attack less than nine months ago by reaching the first U.S. Open semifinal of her career. She needed surgery on her racket-holding hand after she was cut by an intruder at her home in the Czech Republic in December. She returned to the tour at the French Open in May, losing in the second round there and at Wimbledon.
Kvitova has said she still does not have full strength in her left hand. But she was often at her powerful best against No. 9 Williams, especially in the last two sets, repeatedly delivering big, flat forehands.
Neither woman played with a ton of subtlety, mainly trading stinging groundstrokes from the baseline on exchanges that grew in intensity as the 2-hour, 34-minute encounter went along.
"I had my chances," Kvitova said. "Kind of."
Williams, who revealed in 2011 she had been diagnosed with an energy-sapping autoimmune disease, is the oldest women's semifinalist in New York in the Open era, which dates to 1968.
But this sort of throwback run is becoming almost routine again for Williams, who made it to the Australian Open final in January of this year, then the Wimbledon final in July. In 2002, she participated in three Grand Slam finals, losing each to her younger sister Serena.
Stephens, ranked 83rd, has won 13 of her past 15 matches, all on hard courts, reaching the semifinals at three consecutive tournaments for the only time in her career.
She had an operation in January, and while forced to stay away from her sport, she found a new appreciation for it. The time off also allowed her to enjoy other aspects of life.
"I couldn't walk. I couldn't do all the things that I wanted to do. But I did get to hang out with my family and see my little cousin's soccer games and go to weddings and baby showers and stuff. All the things that I thought before I was missing out on, (now) I really wasn't," said Stephens, whose late father, John Stephens, was the 1988 NFL Offensive Rookie of the Year for the New England Patriots, and whose mother, Sybil Smith, was Boston University's first All-American in women's swimming.
"It was just kind of, like, eye-opening," Stephens added. "When I wasn't playing, like, of course I loved my time off, but when I got back to playing tennis, it was, like, this is where I want to be. This is what I love doing."
In the men's quarterfinals, No. 12 Pablo Carreno Busta of Spain and No. 28 Kevin Anderson of South Africa each advanced to the final four at a Grand Slam tournament for the first time.
Anderson got past 17th-seeded Sam Querrey of the United States 7-6 (5), 6-7 (9), 6-3, 7-6 (7) in a match that ended shortly before 2 a.m. Wednesday. Much, much earlier, Carreno Busta of Spain had no trouble beating No. 29 Diego Schwartzman of Argentina 6-4, 6-4, 6-2. It was Carreno Busta's first match of the tournament against an opponent who was not a qualifier.
"I know that I didn't win matches against top players - top-10 or top-20 players," Carreno Busta said, "but I am very happy with my tournament."
___
Follow Howard Fendrich on Twitter at http://twitter.com/HowardFendrich
___
More AP tennis coverage: https://apnews.com/tag/apf-Tennis