Slight risk for severe storms in Travis, Williamson, Hays Counties
AUSTIN, Texas - There's a slight risk of severe storms for Williamson, Travis, and Hays Counties but an enhanced risk in the Hill Country. The risk is marginal for parts east of Austin.
FOX 7 Austin meteorologist Chelsea Andrews says Tuesday night severe weather chances were mostly shut down due to a decent cap over southwest and Central Texas. This prevented the robust upward motion needed to initiate storms. The cap looks to be less of an issue today with the approaching low-pressure system.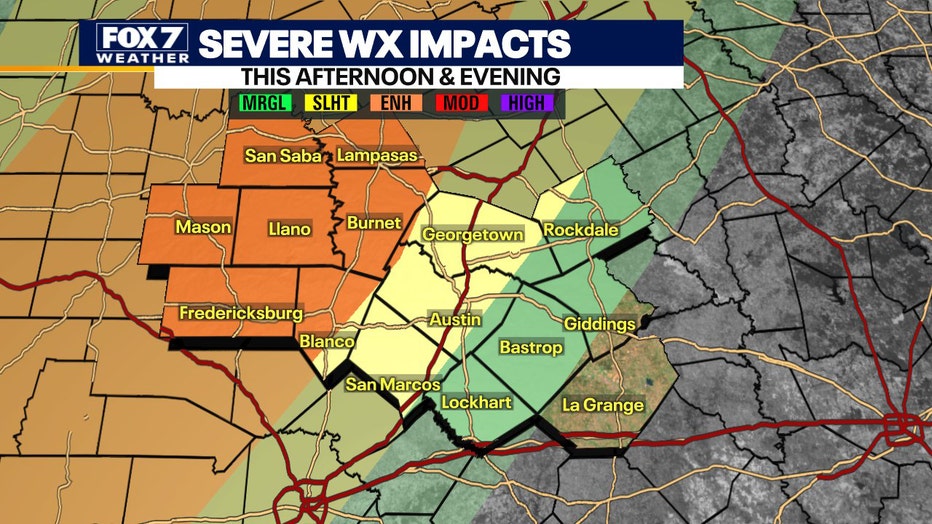 As the evening progresses, the focus shifts to heavy rain potential with a slight risk for excessive rainfall through much of the viewing area. The heaviest rain will likely fall along and west of I-35 and it's estimated to be between 1.5"-3". Coming off a dry few weeks, widespread flash and river flooding appears unlikely.
DOWNLOAD THE FOX 7 AUSTIN NEWS WAPP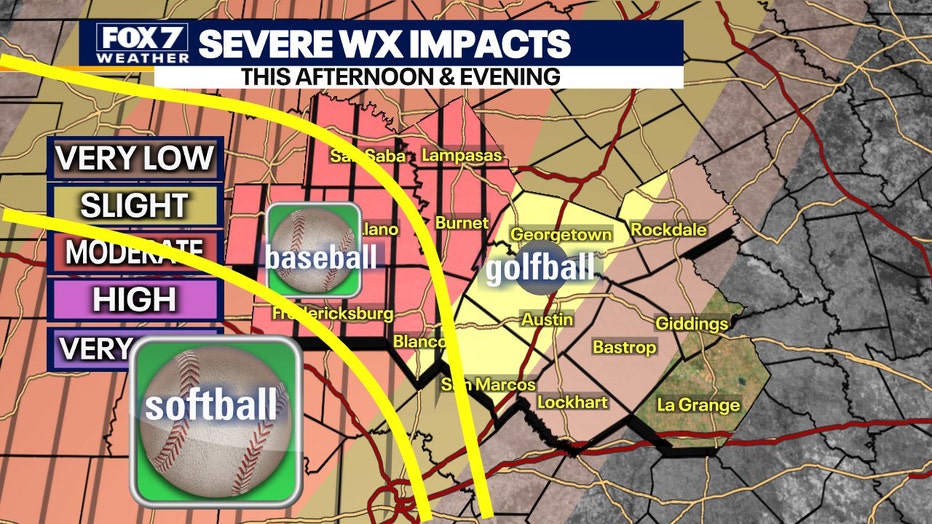 There are some potential risks with the main threat being very large and giant hail. Hail to softball size is possible, though peak sizes of baseballs are more likely in our area. That threat is focused in Hill Country and western counties (Gillespie, Mason, and Llano) of the FOX 7 Austin viewing area. The Austin metro area and along I-35 could see some golf ball-sized hail.
Winds could gust to 70 mph in some stronger storms and the tornado threat is very low.  
Localized flash flooding and street flooding could become issues overnight Wednesday/Thursday morning. It also looks like most of the rain is slated for the Highland Lakes watershed, potentially providing Hill Country lakes with a little boost.
SIGN UP FOR FOX 7 AUSTIN EMAIL ALERTS
A cold front moves in Thursday morning, considerably diminishing the severe threat/heavy rain potential.
Stay weather aware and download the FOX 7 WAPP. Track your local forecast for the Austin area quickly. The app's design gives you radar, hourly, and 7-day weather information just by scrolling, and weather alerts will warn you early and help you stay safe during storms.