Three CAT 4 hurricanes recorded in Pacific at the same time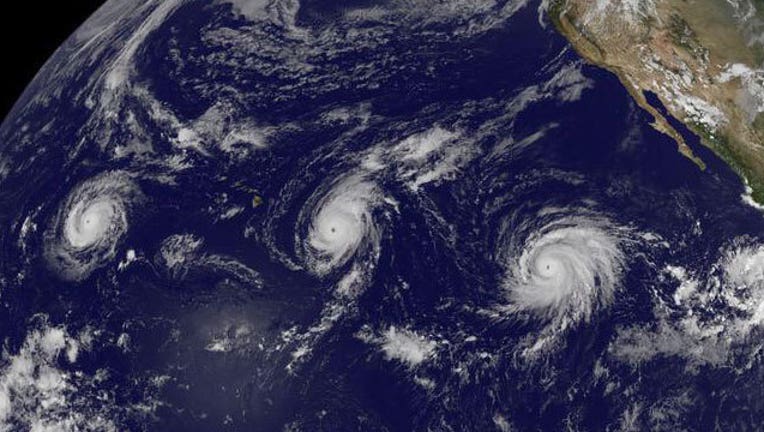 article
HILO, Hawaii (AP) — Big surf began to pick up around Hilo on Hawaii's Big Island Monday evening as weakening Hurricane Ignacio moved to the north of the state with 100 mph winds.
Hawaii missed the brunt of the storm, now a category 2, but the state can expect dangerously high surf through midweek, according to the Central Pacific Hurricane Center. There could also be some heavy winds and rain, according to forecasters.
The storm is expected to pass several hundred miles northeast of Hawaii. Ignacio's strongest sustained winds were reaching 105 mph winds Monday morning, but forecasters said the storm would become a Category 1 hurricane by Tuesday and weaken into a tropical storm by midweek as it encounters southwesterly winds.
The Central Pacific Hurricane Center in Honolulu lifted tropical storm watches for the Big Island and Maui on Sunday evening and said the storm should not have much impact on the islands, although some rain and wind was still possible.
"It's hard to say we're out of the woods because it could make a dramatic shift to the west. It's possible, I guess, but not likely," National Weather Service meteorologist Chevy Chevalier said.
Howard Kunimoto, of Hilo, was out fishing Monday morning and said he wouldn't be worried unless the hurricane was making a direct hit.
"It's far away, so we're not worried at all," he said. "We have the two mountains to protect us."
Forecasters said there would likely be high surf for much of the Hawaii through the middle of the week, mostly on the east-facing shores. They warned that the swell could be dangerous and life threatening.
Another hurricane, Jimena, was moving west toward the region behind Ignacio. The Category 4 storm has been maintaining strength and had maximum sustained winds around 150 mph Monday. Forecasters expect Jimena to maintain that strength through midweek, then begin to weaken as it approaches Hawaii.