110-year-old WWII veteran from Louisiana dies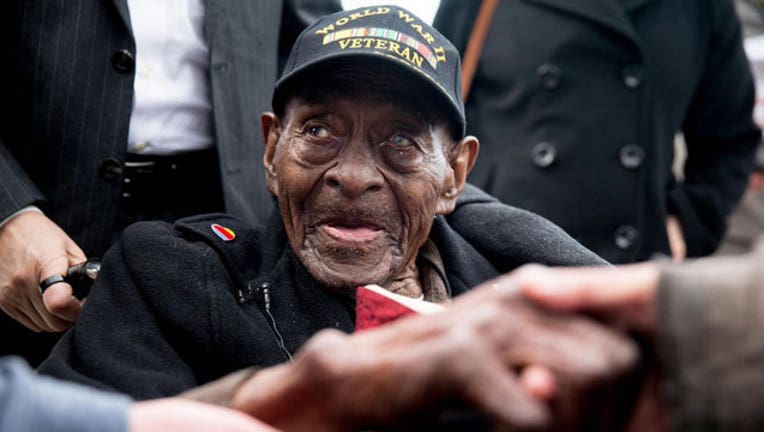 article
NEW ORLEANS (AP) — A 110-year-old Louisiana man who enlisted in the army during World War II to serve his country has died.
Local television station KPLC-TV in Lake Charles reported that Frank Levingston died Tuesday.
Multiple media outlets described him as the country's oldest World War II veteran but that could not be independently confirmed.
Levingston was born Nov. 13, 1905 and grew up in northern Louisiana.
ABC News reported that he enlisted in the army on Oct. 6, 1942, less than a year after the Japanese attacked Pearl Harbor and launched the U.S. into the war raging in Europe and the Pacific.
"He felt the obligation to give to the country whatever he possibly could, and he was very excited about it," his nephew Lee Levingston told ABC News. "He gave it his very best."
In December, Levingston was part of a group of veterans who traveled to Washington, D.C., for a ceremony marking the Dec. 7, 1941 attack on Pearl Harbor.
Ahead of the trip, Levingston was honored at a ceremony.
District Attorney John DeRosier, speaking at the ceremony, said when he looked at Levingston, he didn't see a 110-year-old man.
"I see a young black soldier in green utilities with worn combat boots, scampering across the sand on those beaches," he said.
Levingston served as a private during the Allied invasion of Italy in September 2013 and did a tour in North Africa, the American Press reported. He was honorably discharged in 1945 and spent much of his post-military life in the cement finishing business.
He never married or had children of his own but his nephew said he took great pride in taking care of his siblings' children.
Levingston's funeral is scheduled for next Tuesday in his hometown of Cotton Valley.