17-year-old football recruit killed during party at northwest Dallas hotel
DALLAS - A 17-year-old high school senior and college football recruit was killed at a party Sunday in northwest Dallas.
Police have not said much publicly and have not identified any suspects.
Former and current coaches say Tony Evans Jr. was a great young man with a great future.
The shooting happened just after 1:30 a.m. at the Hawthorn Suites on Brookriver Drive, near Dallas Love Field.
Witnesses told police someone pulled out a gun while a group of teens was partying in a room at the hotel. 
Tony was taken to a local hospital, where he was pronounced dead. One other person was wounded.
Tony was a Lancaster High School student who recently signed a letter of intent to play football at the University of Wyoming.
Charles Flores and Tony grew up together.
"He was like kind to everyone. He always put le a smile on everyone's faces," he said. "I went to school with him since I was like 5 years old at DeSoto Private, and he was like always fun. And then we went to church together, too.
Tony played his wide receiver position beyond his age and was headed to college life in Wyoming on an athletic scholarship.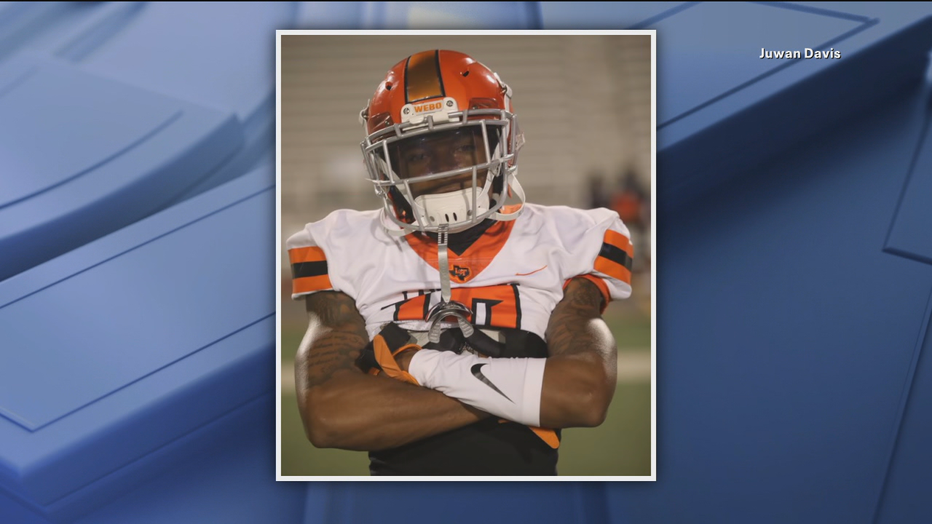 'I was a football manager and I had to follow him with a camera up and down the field up and down the field. He was good in football," Charles said.
Charles says Tony, who was also in small group bible study with him, would go out of his way to help others. He said Tony had two great talents: football and his ability to make people smile.
"We lost like an angel, I guess," Charles said. "But his spirit is still with us walking around."
Police are continuing to investigate and ask anyone with information to call their detective at 214-671-3646.
There is also a Crime Stoppers reward of up to $5,000 for information that leads to an arrest and indictment in the case.