23 cars broken into at St. Edward's University
AUSTIN, Texas - St. Edward's University police are looking for three suspects who broke into almost two dozen cars Wednesday morning.
Officials say the suspects entered the parking garage, Lot P2, in a late model Ford truck. They looked into a number of vehicles and broke the windows of 23 vehicles in the parking garage and the adjacent parking lot P1, next to the softball field.
Possessions were removed from some of the vehicles. The suspects then left campus around 6:30 a.m. from parking lot P3, on the east end of campus by the parking garage, heading westbound on Woodward Street.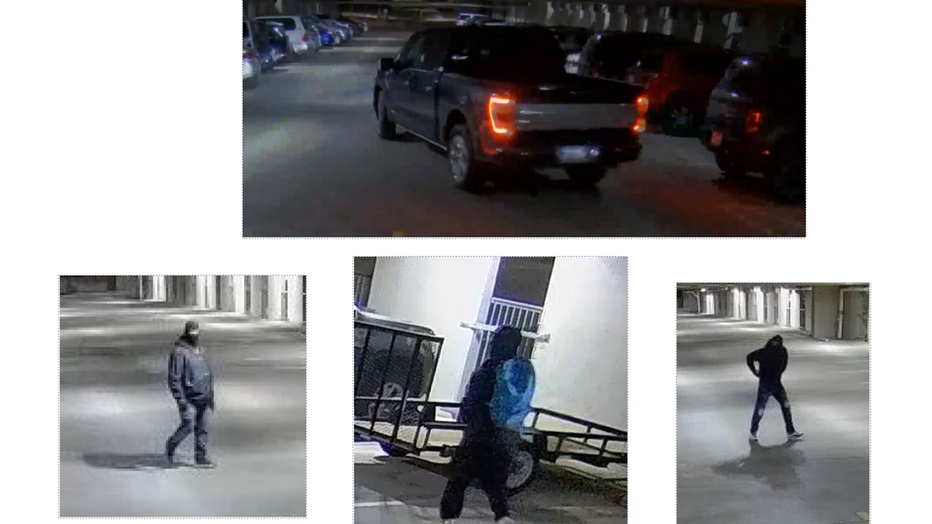 St. Edward's University police released photos of the suspects in the parking garage.
Student Sergio Avila says his car was broken into, and a pair of sunglasses were stolen.
"It's expected and unexpected, you should always be expecting the unexpected," he said.
He had one message for the thieves. 
"You had the most important things to steal. You had a Bible. You had a rosary, but no, you chose to steal a pair of Raybans that I got in Italy. You could get that anywhere. I hope you enjoy the sunglasses, next time I'll pass you a Bible if you need it man," he said.
His friend Sebastian Barroeta gave him a ride, and he says he's worried about it happening to his own car.
"I'm new to Austin, I was like huh, I come from Mexico City, I would expect this over there even though I never had that experience, but here, it's kind of weird," he said.
Another victim who wanted to be anonymous didn't have anything taken, but says her catalytic converter was stolen last semester.
"I was just confused as to why they broke into the vehicles," she said.
Avila says he wants to see better safeguards for cars.
"We need better technology in the school, and a school we are paying a quarter of a million dollars to like, where's the money?" he said. "If you're going to your vehicle at that hour and those guys are there, they got a bat, bah! What are you going to do, unless you're Batman, then okay maybe you can defend yourself, but the majority of people aren't Batman for a reason."
According to a university release, "UPD has reached out to the owners of the vehicles and is actively investigating this incident, which includes working with other law enforcement agencies as part of the investigation. Additionally, UPD is increasing patrols and will have additional aggressive camera surveillance in campus parking lots and the Parking Garage."
They added a list of safety tips for students:
Prevention/Safety Tips
UPD firmly believes that crime is never the fault of the victim. These general safety tips are provided in an effort to assist all members of the university community.
When parking on campus, lock vehicles and keep any valuables out of sight.
Report criminal incident and suspicious activities/individuals immediately to law enforcement by calling or texting 512-448-8444 (On Campus) or calling 9-1-1 (Off Campus).
Seek support if you are experiencing anxiety or feel like you have been triggered in some way. Contact your resident assistant if you live on campus or speak with a counselor in the Health & Counseling Center (512-448-8538). The Hilltopper Helpline is also available at 833-434-1217, 24 hours a day, 7 days a week.
Anyone with information regarding this incident is asked to call or text the University Police Department at (512) 448-8444 or email us at campus.safety@stedwards.edu.