Abbott, Texas DSHS distribute antiviral drug in Austin to treat COVID-19
AUSTIN, Texas - On May 20, Governor Abbott and the Texas Department of State Health Services (DSHS) announced that they will be distributing 10 cases of the antiviral drug remdesivir to 10 hospitals across the Austin area. 
A press release from the governor's office states the cases of remdesivir have been provided to the DSHS from the U.S. Department of Health and Human Services. DSHS received an initial 30 cases of remdesivir from the federal government last week and distributed it to 15 hospitals throughout Texas. 
SIGN UP FOR FOX 7 AUSTIN EMAIL ALERTS
"The State of Texas is working swiftly to ensure our hospitals and medical providers have the resources they need to treat patients diagnosed with COVID-19," said Governor Abbott. "I thank our partners at the U.S. Department of Health and Human Services for sending these cases of remdesivir to the state of Texas. Not only will this drug treat patients throughout the state, but it will especially bolster our mitigation and treatment efforts in communities experiencing surges in COVID-19 cases." 
The governor's office says that remdesivir has shown promise in early trials in speeding up tie recovery time among patients who have been hospitalized with COVID-19.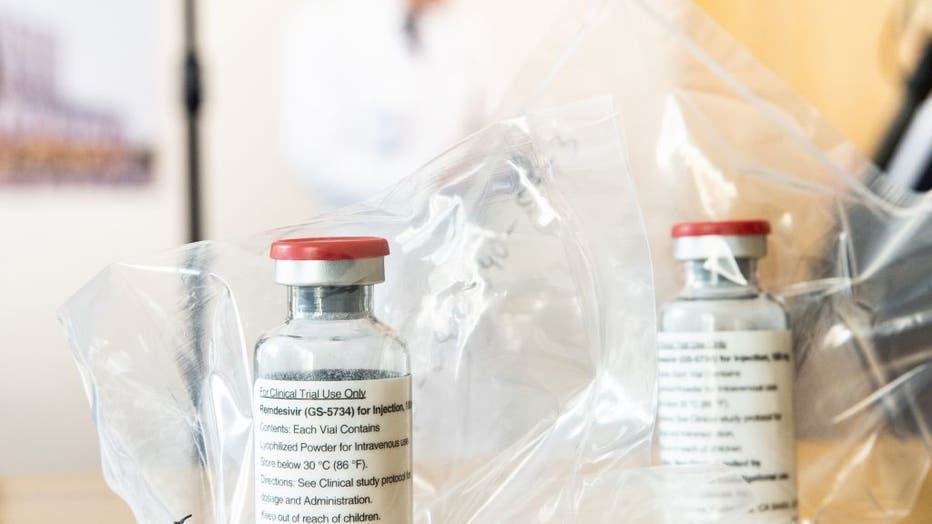 Vials of the drug Remdesivir lie during a press conference about the start of a study with the Ebola drug Remdesivir in particularly severely ill patients at the University Hospital Eppendorf (UKE) in Hamburg, northern Germany on April 8, 2020, amids
"Preliminary results from a clinical trial showed the average recovery time among patients who received remdesivir was 11 days versus 15 days with a placebo," the press release stated. 
RELATED: Austin City Council working out how to spend federal coronavirus relief money
"To ensure the medication can quickly be used for patients across the state, the distribution is based on the number of patients in the hospital and in intensive care in each hospital region. Within those regions, allocations are based on the number of intensive care beds by hospital," the release stated. 
DOWNLOAD THE FOX 7 AUSTIN NEWS APP FOR YOUR MOBILE DEVICE
Medical staff at the hospitals will determine how remdesivir will be used, but according to tot he governors office, it must be prescribed in accordance with the Food and Drug Administration's Emergency Use Authorization, allowing for the treatment of suspected or confirmed COVID-19 in adults and children hospitalized with severe disease such as those in intensive care.
One hospital in Hays County, six in Travis County, and three in Williamson County will receive the drug. 
CLICK HERE FOR THE LATEST INFO ON THE CORONAVIRUS OUTBREAK
---
FOX 7 Austin is working to keep you up to date with coronavirus, with both local and national developments. Every weekday we're live at 12 p.m. with a special show reporting the latest news, prevention tips and treatment information.
You can watch live in your FOX 7 Austin app or on the FOX 7 Austin Facebook page.
You can also get the latest COVID-19 news from around the country at coronavirusnow.com.