Abortion legislation trial gets underway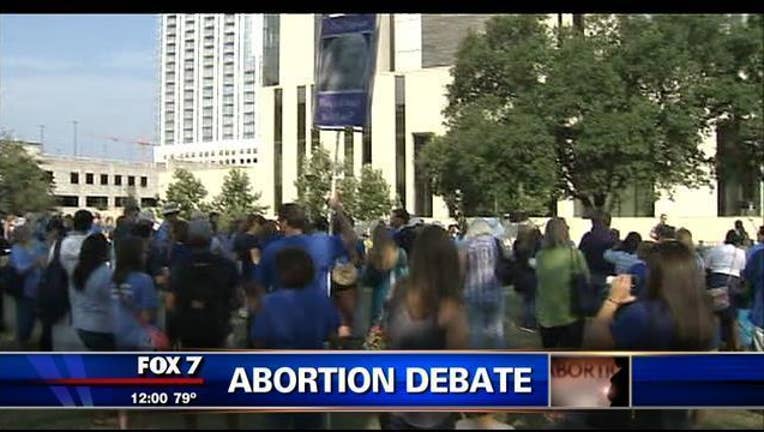 article
AUSTIN, Texas - There was a lot of extra security in downtown Austin at the federal court house Monday morning. A large crowd had gathered as arguments began in the second lawsuit against a controversial abortion law that was passed during the last state legislative session.
They came holding banners, crosses, coat hangers and in chains. Pro and anti-abortion supporters faced off Monday morning in front of Austin's federal courthouse. Part political rally, part church revival, the conflicting voices were equally passionate.
While police keep the two sides separated inside the federal courthouse, the legal arguing was just getting underway. The civil trial is the latest attempt to strike down state legislation known as House Bill 2. The lawsuit was filed by whole women's health clinic owner Amy Hagstrom Miller. As she closed down her Northeast Austin facility last week, Miller told FOX 7 the action was a direct result of new abortion rules.
"They're not based on medical science or fact, and what they do is serve to shut down clinics and make access to abortion an undue burden on women in the state of Texas," said Miller.
Under the Texas law abortion facilities like this renovated home must be upgraded and meet standards for ambulatory care centers. The rule doesn't take effect until September 1 and supporters of HB 2 question the motivation behind some of the recent closures.
"I point out they are closing voluntarily, they are closing because they are choosing not to meet the reasonable safety standards that are in House Bill 2," said Joe Pojman with Texas Alliance for Life.
Most of HB 2 has already had its day in court. Earlier this month, Federal appeal judges recently upheld 2 key sections of the law; the ru-486 abortion drug must be administered according to FDA procedures. And abortion doctors are required to have admitting privileges at a nearby hospital. Whole women's health is asking the court to give their doctors in El Paso and McAllen immunity from the law.
"Already women are forcing, they are self-inducing, out of desperation because if you are forced to bring a child to term that you do not want, you have no control over your body, over your reproduction, over the course of your life and it is a form of enslavement," said Sunsara Taylor who was part of the Opposition rally.
The trial is expected to wrap up by Thursday.