Activists file lawsuit to protect health of L.A. County inmates during COVID-19 pandemic
LOS ANGELES - A group of activists who call themselves the "COVID-19 Response Team," have filed a lawsuit against Los Angeles County and the L.A. County Sheriff's Department for what it calls "a failure to protect the health of inmates in the county jails," during the coronavirus pandemic. 
Patrisse Cullors, Founder and Chair of Reform LA Jails, says the sheriff is trying to demonize inmates. Cullors is also a co-founder of Black Lives Matter.
Los Angeles County Department Sheriff Alex Villanueva claims inmates are deliberately trying to infect themselves.
"I'm disappointed in the Sheriff's inability to roll out a plan to release more people out of the jails. Yes, he has released a significant amount of people out of the jails, but there are still people who are incredibly vulnerable who are at risk inside of L.A. jails."
She said some of the vulnerable inmates include nine pregnant women, those who are HIV positive and those with suffering from mental illnesses.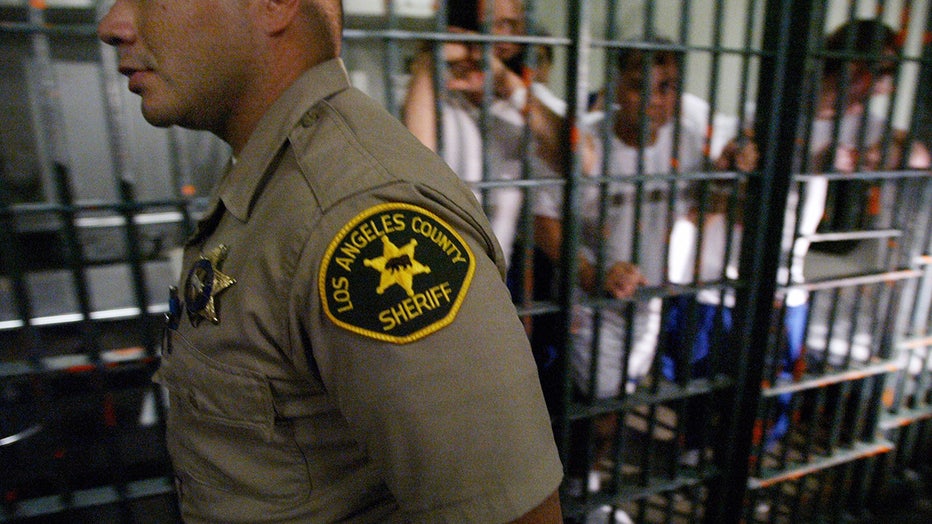 Los Angeles County Deputy Sheriff walks past a cell full of inmates at the Los Angeles County Central Jail. (J. Emilio Flores/Corbis via Getty Images)
"He said he's done a good job, and we actually do not think he's done enough," Cullors said. 
A surveillance video has been circulating that shows what appears to be inmates attempting to infect themselves with the coronavirus. 
RELATED: Video shows LA County inmates attempting to infect themselves with COVID-19, sheriff says
Of the video, she said, "perhaps they are trying to get their temperature checked so they can figure out if they have COVID-19. All we've ever heard from people inside the jails is that they are scared for their lives…that they want to get tested…they want to figure out a plan of action."
"What the Sheriff did was demonize the communities inside and the family members they're connected to. He completely railroaded the people who are most vulnerable right now," she added.
RELATED:
• L.A. County sued over danger to jail inmates from COVID-19
• L.A. County releases 1,700 inmates to lessen jail population due to COVID-19 crisis
• L.A. Sheriff: Inmate release effective, but possible surge in crime ahead
Sheriff Villanueva said there is social distancing happening on jail grounds and that the inmates themselves are choosing not to social distance.
The sheriff has also stated L.A County jails are the nation's greatest in terms of depopulating the jails.
"This is a sheriff who has in the last several years that he's been in office has completely betrayed the community. He ran on a platform that was progressive and he turned his back against every single person that said that would take office and changed the culture inside the sheriff's office," she said.
Cullors believes Sheriff Villanueva has gone back to the1990s, old-school rhetoric that demonizes people inside, citing half the inmates are there because they cannot afford to make bail.
Villanueva said every new inmate is being tested for COVID-19 and that he'd like to test all inmates, but the department currently does not have the capacity to do so. 
Get breaking news alerts in the FOX 11 News app. Download for iOS or Android.