Anger can motivate people to achieve their goals, new study suggests: 'Sharpened focus'
Looking to get stuff done? Being angry might help you there.
Anger can be a powerful motivator for achieving goals, according to a new study from the American Psychological Association (APA).
The research, published this week in the Journal of Personality and Social Psychology, examined how both positive and negative emotions factor into the odds of success.
"People often believe that a state of happiness is ideal, and the majority of people consider the pursuit of happiness a major life goal," lead author Heather Lench, PhD, a professor in the Department of Psychological and Brain Sciences at Texas A&M University, said in a press release.
FORGIVENESS COULD LEAD TO BETTER MENTAL HEALTH, HARVARD STUDY REVEALS
"The view that positive emotion is ideal for mental health and well-being has been prominent in lay and psychological accounts of emotion, but previous research suggests that a mix of emotions, including negative emotions like anger, result in the best outcomes."
Among all emotions, researchers honed in on anger, since it was hypothesized to "support goal attainment in the presence of challenge," the study noted.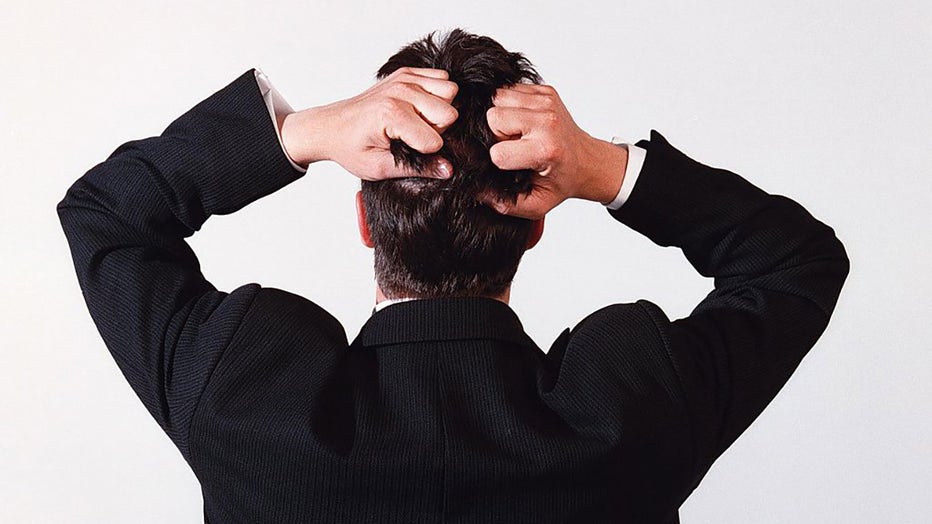 FILE - A business man tearing his hair out in frustration. (Photo by Fairfax Media via Getty Images via Getty Images)
This assumption was put to the test through a variety of experiments.
These included persisting with difficult puzzle tasks, cheating to attain prizes, physically avoiding objects in a video game and signing a petition to dodge financial loss.
TOM BRADY'S MENTAL FITNESS COACH SHARES 6 TIPS ON HOW TO 'TRAIN YOUR MIND' LIKE THE GREATS
Another part of the study considered how anger played into voting behavior in presidential elections.
After testing the behavior of 1,000 participants, the results showed that anger improved people's ability to reach their goals across all experiments.
These outcomes included increased scores, shorter response times and even more cheating.
After analyzing data from the 2016 and 2020 presidential elections, the study revealed that voters who claimed they'd be angry if their candidate did not win were more likely to vote.
Anger appeared to motivate people most frequently when the goals were more challenging, Lench of Texas A&M noted in the press release.
SIMPLE EVERYDAY ACTIVITY COULD SLASH HEART DISEASE RISK BY 20%, STUDY FINDS
In some experiments, other emotions such as amusement and desire were also associated with goal achievement, while "negative" emotions like sadness and boredom appeared to be useful as well.
"People often prefer to use positive emotions as tools more than negative, and tend to see negative emotions as undesirable and maladaptive," Lench said. 
"Our research adds to the growing evidence that a mix of positive and negative emotions promotes well-being, and that using negative emotions as tools can be particularly effective in some situations," she added.
NYU psychologist Dr. Yamalis Diaz, who was not involved in the new research, weighed in on the findings, calling the "theoretical" implications "intriguing" to Fox News Digital.
CLICK HERE TO SIGN UP FOR OUR HEALTH NEWSLETTER
"[The findings] potentially suggest new ways we can help people think about channeling negative emotional states into adaptive/functional behavior," she said via email. 
The psychologist, however, challenged the study's "limited practical implications" for measuring how physiological and emotional arousal influences "cognitive functioning on a game/simulation."
"It has long been understood that when someone is a little activated by arousal/stress hormones such as adrenaline and cortisol, it sharpens attention and focus, while too much or prolonged exposure to activation (emotional arousal) would be detrimental to cognitive/adaptive functioning," Diaz wrote.
So, while being angry may motivate short-term goal attainment — such as working out, "angry cleaning" or pursuing creative projects — Diaz emphasized that long-term anger is not likely to have the same impact.
CLICK HERE TO GET THE FOX NEWS APP
"All in all, I think studies like this do help us think about how to better understand links between emotions and behaviors, but we need to be careful about over-interpreting the results," she said. 
"But hey, a little negative emotion being channeled into positive goals is a positive thing," she also said.