Austin Animal Center takes in over 60 cats from home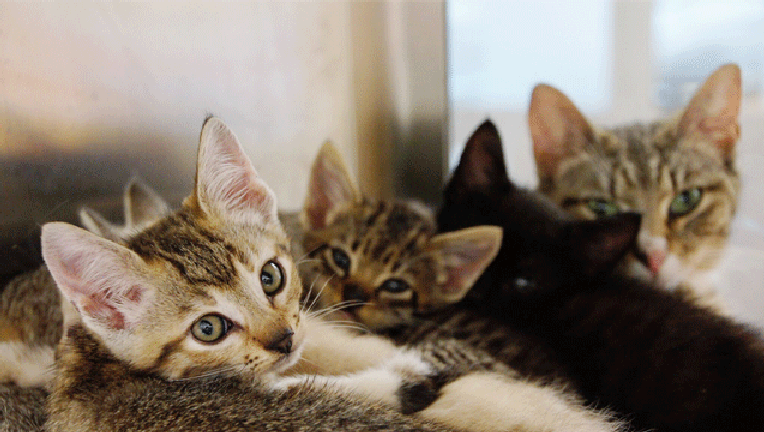 article
Animal Protection Officers rescued 63 cats and kittens from a South Austin home Friday.
The cats were surrendered by a mother and her son who were unable to care for the large number of cats. Because of the conditions of the home and number of cats, the renters have now been evicted. The cats are now in the custody of Austin Animal Center.
"Although this family started with good intentions, it was clear the cats' owner was overwhelmed and unable to properly care for such a large number of animals." said Mark Sloat, Field Services Program Manager.  None of the cats had been vaccinated or sterilized and had many kittens of all ages with them. All of the cats were safely removed and transported to the Austin Animal Center to be examined by a team of veterinarians and receive any necessary medical attention as well as vaccines and be spayed or neutered."
In order to create space for these cats coming in, Austin Animal Center asks the community to adopt a healthy cat or kitten currently living in the shelter. The shelter currently has over 200 cats and kittens that are ready to be adopted. Adult cats are also in need of temporary foster homes.
The Center, along with Austin Pets Alive! and Austin Humane Society will run an adoption special through Monday, September 26.  You can name your own adoption fee during the 'U Adopt a Texas Shelter Dog or Cat' promotion. This University of Texas-themed adoption event lets you get your fix of UT football while the team is on a bi-week.
At Austin Animal Center, all pets that are ready to be adopted and taken home that day will have a burnt orange kennel card to help them stand out.
"If you adopt a pet from any Austin shelter this weekend, you will be saving a life. All of our shelters are extremely full and we need the city's support. We can only help each other if you adopt" says Chief Animal Services Officer, Tawny Hammond.