Record-breaking travel day ahead for Austin airport following Formula 1 at COTA
AUSTIN, Texas - Austin-Bergstrom International Airport is expecting to break a new travel record following the Formula 1 race at Circuit of the Americas this weekend.
Airport officials say more than 45,000 travelers are expected to depart from Austin on Monday, Oct. 23, with more than 32,000 expected to depart on Sunday.
AUS is offering the following travel tips to help passengers:
Getting to AUS
Plan ahead and budget extra time to return a rental car, check luggage, or get to AUS
Have different options to get to the airport, including rideshare, friend or family drop-off, or CapMetro Route 20
Check real-time traffic info on DriveTexas before leaving for the airport
Arrive to the airport at least 2.5 hours before departure for regular TSA screening for domestic flights.
Arrive to the airport at least 3 hours before departure for all international flights.
Getting to the terminal
Use lower-level arrivals curbside to drop off travelers if the upper level is backed up or vice versa
Ticket counters
Skip if you don't have to check a bag or fly internationally (don't skip if traveling with a firearm)
Use mobile boarding passes on your smartphone
Use kiosks to print boarding passes
TSA
Make sure carry-ons do not contain any prohibited items in them
Keep your laptop, electronics, and liquids inside your bags as TSA has new screening equipment
Be prepared to move to a different checkpoint if asked (all four checkpoints lead to all gates)
Making it to your gate
Gate numbering starts at 1 on the far east side of the airport, to the left of the TSA checkpoints
Gates in the 20s and 30s are on the west side
Travelers can also use AUS's digital map to find their gate
Dining options
AUS has many 24/7 grab-and-go and kiosk options in the terminal. 
Additionally, for this special travel occasion, several of our airport concession dining options including Jo's Coffee, Mad Greens, the Salt Lick and Starbucks will have extended hours on select days.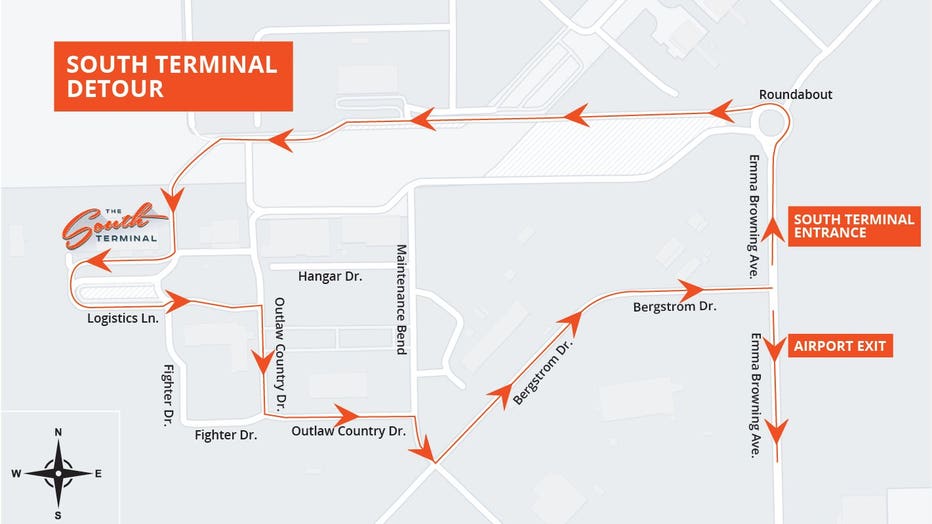 Those traveling with Allegiant and Frontier airlines are advised that their flights will not depart from the Barbara Jordan Terminal, but the South Terminal, a separate facility. There is a small detour in place due to construction.
For more information including traveling with children and pets, arrival time recommendations, what you can pack in your carry-on and checked luggage and how to handle customs and international travel, click here.