Austin could ban cell phone use behind the wheel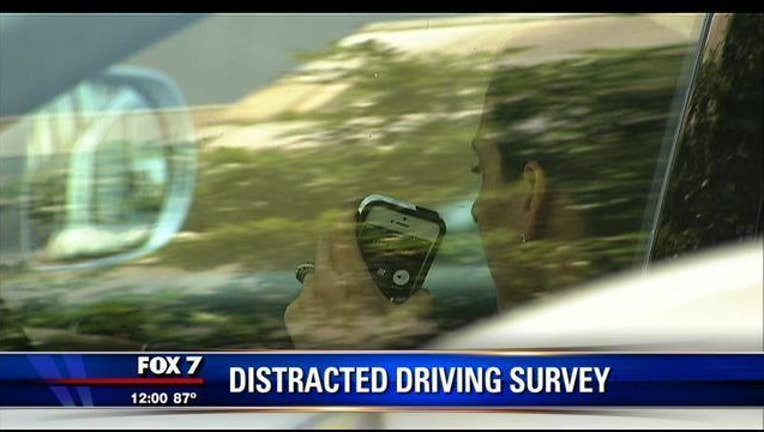 article
AUSTIN, Texas - A distracted driving study group recommends Austin ban hands-on cell phone use while driving. The recommendations are an effort to strengthen the city's current ban against texting while driving, according to a city memo.
The city council put the study group together back in February. They tasked them with looking at ways to improve the city's current ban. The group used national data and looked at what hands-free ordinances like Corpus Christie and Amarillo currently have.
"In the simplest terms you could no longer have the device in your hand while you're operating a motor vehicle or a bicycle," said APD Assistant Chief Brian Manley.
Manley serves on the distracted driving study group. The current texting and driving ban is difficult to enforce according to Manley.
"It's really hard to discern when you're pulling up to a car or see someone in traffic whether they are actually texting or dialing a number. So it's been challenging to this point," said Manley.
City records show that since the ban kicked in back in 2010 officers have issued 1,219 citations for texting while driving. Of that number 319 citations have been dismissed.
The recommendations would make handling a cell phone behind the wheel a primary offense.
There are exceptions to the proposal. If someone is in immediate danger or see a life threatening situation they can call 911. Law enforcement officials, firefighters or emergency personnel would be exempt along with people who are pulled over on the side of the road.
Drivers who have navigation devices affixed to their vehicles would also be exempt. Hands-free devices would still be legal.
The study group surveyed 2,430 people and 91 percent reported seeing someone text and drive within the last week at the time they answered the survey.
Austin drivers have mixed reaction to the proposed changes.
"Safety wise I think it's the best way to go," said Josh Gonzales.
"I think it could do a lot to help with the amount of accidents," said Laura Nail.
"There are a lot of things that get passed through I'm not for. If you're sitting at a stop light I don't think they should give you a ticket," said Nick Haskins.
The city council will have the final say before any changes take place. There will likely be several opportunities for input from the public. It's not clear how soon this item will make the council's agenda.