Austin man sues Rainey Street bar after drunk patron attacked him
AUSTIN, Texas - An Austin man is suing a Rainey Street bar after he says a drunk patron attacked him, smashing her glass in his face, and leaving him with permanent scars.
"The first one slices about halfway through my forehead, then zigzags down through my eyebrow, barely misses my eye, big gash right here, and then down and over here," said Billy Raisch, 27, pointing out his scars as he spoke exclusively to FOX 7 Austin.
Those scars are still visible more than six months after what Raisch calls a brutal attack inside the Parlor Room, an attack which he is now suing over. That lawsuit was filed in Travis County District Court Tuesday.
"I want justice, first of all. And I don't want this to happen to anybody else," said Raisch.
It all happened in the early evening hours of Sunday, February 26. Raisch and a friend walked into the crowded nightspot, the friend accidentally bumped into another woman.
"They described her as reeking of alcohol, couldn't hold herself up, looked wet, just overall sloppy drunk," said James Wood, Raisch's attorney.

"That girl was really angered by being bumped and threw her drink in my friend's face," said Raisch.
Raisch said he tried to calmly intervene.
"I was like, 'whoa, whoa, whoa'. And she then took her empty glass and started bashing my face," said Raisch.
He didn't realize how badly he was hurt until he got outside.
"I started feeling the blood rushing down, the pain started to hit," said Raisch.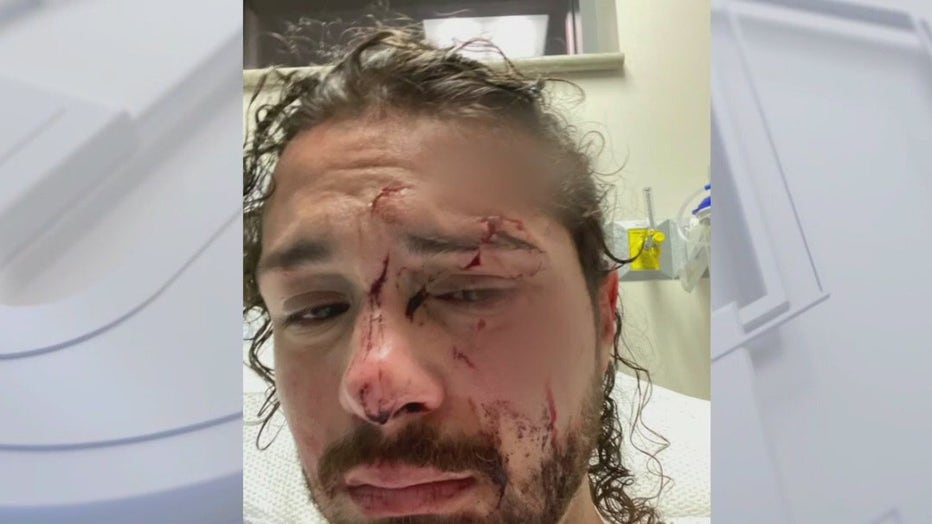 Raisch was left with permanent scars due to the commotion at the Rainey Street bar.
In the commotion, the woman apparently took off.
"The staff was telling me that the manager was holding her in the office," said Raisch. "The manager came out and was like, 'Oh, no, she's not here.'"
Raisch was rushed away in an ambulance.
"He left the hospital after 4 hours of clean up and picking glass out of his face, with about 26 stitches," said Wood.
For months, Wood says he tried unsuccessfully to get Parlor Room to turn over evidence to help track the woman down. As a result of that lack of evidence to identify the suspect, Austin police eventually suspended its investigation.
"You can look at receipts, security footage. There are a lot of things that a bar can do to identify who is in the bar at any given time. And as of now, Parlor Room hasn't done any of that for either us or the police," said Wood.
That led them to file the lawsuit, citing a Texas law known as the Dram Shop Action, which can hold a bar responsible for over-serving someone who then hurts someone else.
"Either they let somebody obviously intoxicated into their establishment or they over-served her from the beginning and kept giving her drinks," said Wood.
The suit, which also contends the bar was unsafe, doesn't specify an amount. Wood says it's too early for that.
"One, we have existing medical expenses for all the care that he's gone through so far in his hospital treatment. And then two, it would be really nice if he could get the money to pay for some corrective procedures," said Wood. "That is a permanent disfigurement to his face."
Beyond that, Raisch says he hopes this sends a message to other bars.
"To really take the way they're serving their patrons like seriously," Raisch said.
He's also hopeful this will finally lead to an arrest.
"I'd want her to see my face. I'd like to ask her if she even remembers breaking glass on my face over and over," said Raisch. "I'm not going to let it go away. These scars are not going to go away."
FOX 7 reached out multiple times to both the Parlor Room and the bar's attorney. As of late Tuesday night, we have not received a response.