Austin to close roadway, open space for pedestrians to maintain safe distancing
AUSTIN, Texas - The City of Austin will be closing a portion of one of its roadways to provide more space for walkers and cyclists. 
According to a press release from the city, Austin Transportation will be closing a portion of Riverside Drive from Lee Barton Drive to South First Street to motor vehicle traffic beginning Friday, April 17 and will open the space for walkers and cyclists. 
RELATED: TIMELINE: Texas' continued response to COVID-19 pandemic
In a similar move, on April 10, Austin Transportation converted one southbound lane of the section of Pleasant Valley Road that crosses Lady Bird Lake.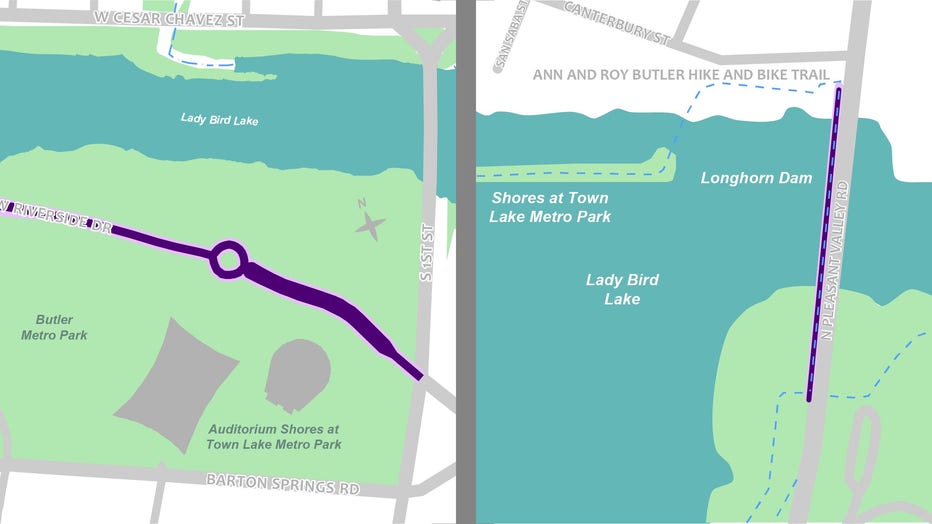 The closures were made to provide more space for pedestrians and cyclists to make essential trips more safely while maintaining CDC recommended social-distancing guidelines.  
"With the current stay-at-home order, automobile trips are down, allowing Austin Transportation to convert some select roadways temporarily into safe walking and cycling spaces that allow for better physical distancing," said Austin Transportation Director Robert Spillar. 
The closures were aimed at making it easier and safer for people to access the Butler Metro Park, Vic Mathias Auditorium Shores, and the Ann and Roy Butler Hike and Bike Trail and Boardwalk while maintaining adequate physical distancing to limit the spread of COVID-19. 
RELATED: Track COVID-19 in Texas
The closures were made possible through a partnership between Austin Transportation and the Austin Parks and Recreation and Public Works Department. Austin Transportation staff will monitor the closures on a daily basis to ensure conditions remain safe. 
"When using City parks or trails for essential trips, residents should visit locations near their homes, limit their excursions to short periods of time, and allow for at least six feet of space when passing others," the city said in a press release. 
CLICK HERE FOR THE LATEST INFO ON THE CORONAVIRUS OUTBREAK
---
FOX 7 Austin is working to keep you up to date with coronavirus, with both local and national developments. Every weekday we're live at 12 p.m. with a special show reporting the latest news, prevention tips and treatment information.
You can watch live in your FOX 7 Austin app or on the FOX 7 Austin Facebook page.
You can also get the latest COVID-19 news from around the country at coronavirusnow.com.